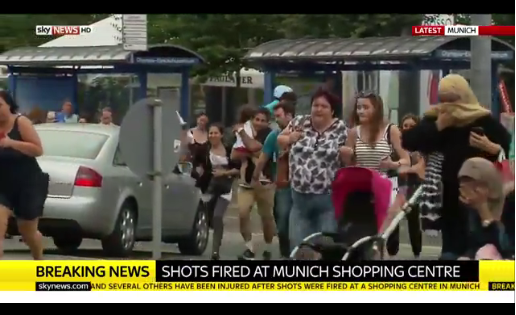 UPDATE 4:30 P.M.: Munich police have now confirmed that there are eight dead from the attack. Shooters are still at-large.
UPDATE 3:50 P.M.: Munich police have said that there are no links between the shooting and ISIS.
Today is the five year anniversary of the Oslo massacre, where a German political extremist took the lives of 77 people. It is not confirmed if Friday's attack was politically motivated or not.  
Reportedly, one of the shooters yelled "I am German" at someone filming him, and then proceeded to insult foreigners, espeically Turks. 
UPDATE 3:40 P.M.: The Munich police have claimed that there are still three gunmen on the run. This contradicts previous reports from the media that one of the gunmen took his own life. 
UPDATE 3:30 P.M.: German Media has reported that one of the gunmen has taken his own life. A spokesperson for the Munich Police has said that the gunman are still on the run, but did not deny that one of the gunmen commited suicide.
The police have confirmed that there are six dead from the attack. There is an unconfirmed number of injured individuals. 
Breaking News: There are reports of gunfire at a shopping mall in Munich, leaving several dead. The Munich police have said that they suspect this is a terrorist attack
"We believe we are dealing with a shooting rampage," a police spokeswoman said. "We believe there was more than one perpetrator. The first reports came at 6 pm, the shooting apparently began at a McDonald's in the shopping center. There are still people in the shopping center. We are trying to get the people out and take care of them."
The most recent reports from witnesses have said that there are three gunmen. None of the shooters have been apprehended so far.
There are reports that there are 11 dead, but German media has allegedly reported that there could be as many as 15 dead.
There have also been reports of an attack at a metro station in the city center. The metro is being evacuated and the government is urging all people to get off of the streets and into a safe area.
This attack is coming just days after the terrorist attack in Nice, France, where 84 individuals were mowed down by a ISIS terrorist. Earlier this week, there was an attack from a self proclaimed "ISIS soldier" on a train in southern Germany.  
There are a lot of contrary news reports coming from the scene and updates will be added.