North Korea will cease any further nuclear or missile tests and dismantle a major nuclear test site effective immediately, the country's state media said on Friday.
The Korean Central News Agency quoted North Korean leader Kim Jong Un as saying that the country "no longer need[s]" nuclear or missile tests "under the proven condition of complete nuclear weapons." 
"The nuclear test site in northern area has also completed its mission," he added.
The move was reportedly made as a gesture of goodwill amid diplomatic talks between North and South Korea, according to the state-run news agency. 
North Korean dictator Kim Jong Un is scheduled to meet with South Korean leader Moon Jae-in next week.
He is also expected to hold a summit with President Trump in the coming weeks.
President Trump applauded the move on Friday as "good news" for the world.
"North Korea has agreed to suspend all Nuclear Tests and close up a major test site. This is very good news for North Korea and the World - big progress! Look forward to our Summit," he tweeted.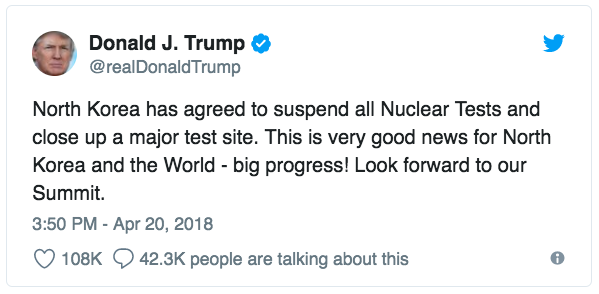 Trump on Thursday said there was a "bright path available to North Korea" if dictator Kim Jong Un were to denuclearize.
Today's announcement, however, doesn't mean that North Korea will give up any of its nuclear capabilities.
(Cover Photo: Wikimedia Commons)