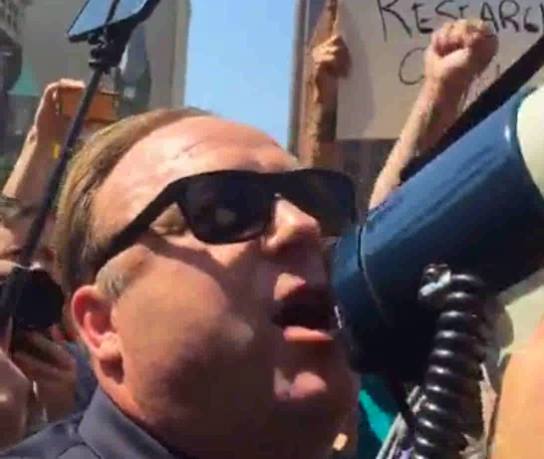 Infowars founder and radio host Alex Jones was in Cleveland Tuesday afternoon for the Republican National Convention. He was there to promote free speech and speak out against the protesters, who Jones called "globalists fomenting civil war in America" while "pushing communism and a race war."
Jones went right into the middle of the crowd and responded to their protest. His comments over megaphone included, "The communists are a bunch of murdering scum worldwide, and George Soros is a Nazi-collaborator funding these organizations" and "We are here to promote a free, open election in this country and an open, free market."
During his infiltration of the demonstration, Jones was pushed and appears to be attacked by protesters yelling, "Nazi scum, off our streets!"
The response to being compared to Nazis and communists was to call Jones a Nazi. Good one!
Police then escorted Jones back to his car, and the situation was subdued. 
For video of the encounter, watch below:
For the full video, click here.