Environmental Protection Agency Administrator Scott Pruitt has resigned, according to a tweet from President Trump Thursday afternoon. The president also indicated that EPA Deputy Administrator Andrew Wheeler will assume Pruitt's role beginning on Monday.
Here's the tweet: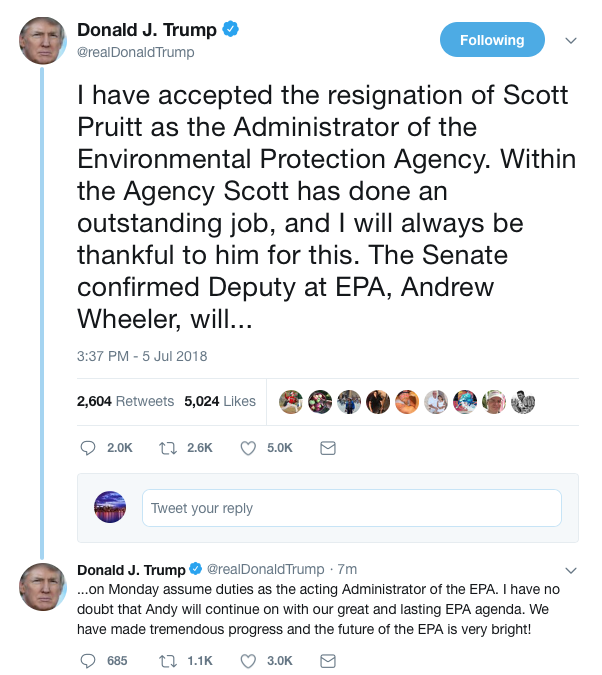 UPDATE: 7/5/18 4:30PM - Following Trump's tweet about Pruitt's resignation, an official resignation letter by Pruitt was released. You can read the letter here.
Pruitt's resignation came during the same week that Pruitt was accosted by a 33-year-old school teacher while eating lunch at a restaurant in Washington D.C., where she demanded he resign. While the woman's words most likely didn't influence Pruitt's decision to resign, Pruitt did cite the toll that serving in the administration has taken on his family in his resignation letter to the president.
Stay tuned to MRCTV for any update concerning this story.
MRCTV Reader,
The liberal media are terrified of the truth, especially when it leads to uncomfortable questions about their own leftist worldview.
MRCTV is the multimedia division of MRC featuring original content and aggregated videos of the news, people, and events conservatives care about.
MRCTV relies on the support of our loyal readers (and video viewers) to keep providing the news and commentary that matter to the American people, not just stories that prop up the liberal agenda.
Make a donation today. Just $15 a month would make a tremendous impact and enable us to keeping shining the light where the liberal media are afraid to tread.
— The MRCTV Team
DONATE
Connect
Sign up for our MRCTV newsletter to receive the latest news.
Sponsored Links