There's not much to report, but according to the Associated Press (AP), C-SPAN has suspended political editor Steve Scully following an admission that he lied about his Twitter account being hacked into following a now-deleted tweet in which Scully asked former White House Communications Director Anthony Scaramucci, a vehement critic of President Donald Trump, for advice.
"I sent a brief tweet addressed to Anthony Scaramucci. The next morning when I saw that this tweet had created a new controversy, I falsely claimed that my Twitter account had been hacked," Scully admitted in a press release from C-SPAN, blaming both Trump and "relentless criticism on social media and in conservative news outlets regarding my role as moderator for the second presidential debate" for why he lied.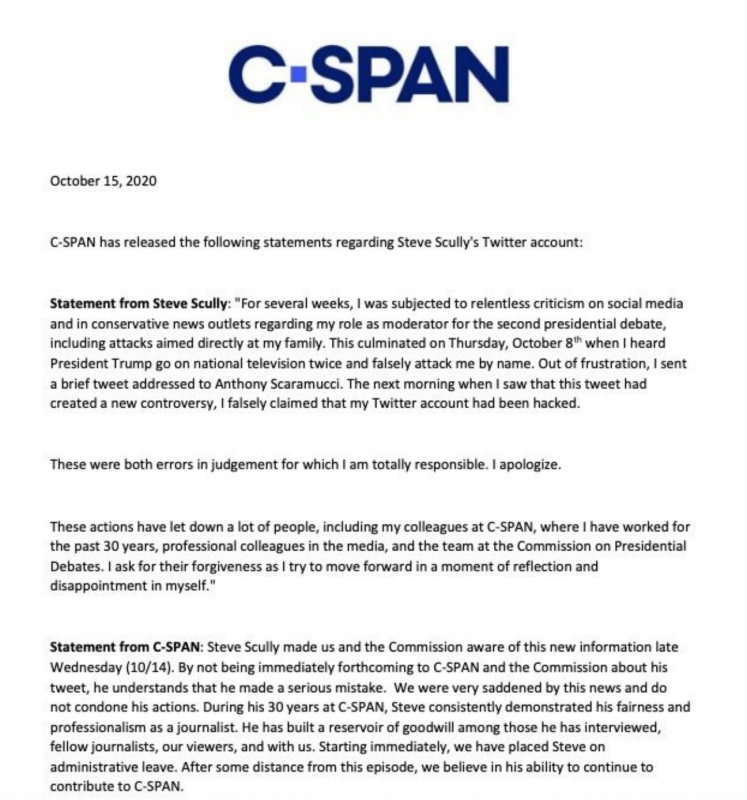 The controversy became national news since Scully was slated to preside over the second presidential debate between Trump and former Vice President Joe Biden. The debate has since been canceled by the Commission on Presidential Debates (CPD), but both Trump and Biden are scheduled to participate in separate town hall events on Thursday evening, the same day the debate was supposed to happen.
Stay tuned to MRCTV for updates, if any present themselves.