Update (8/25 9:59 A.M.): Fox News reported:
At least 13 people were killed and 36 others were wounded when gunmen attacked the American University of Afghanistan in Kabul, Afghan officials said early Thursday.
Update (8/24 1:52 P.M.): There have been conflicting reports on the victims, but Fox News is reporting:
At least one student died and 14 other people were hurt Wednesday after a "complex attack" involving bombs and gunfire at American University of Afghanistan in Kabul, police and the head of the city's hospitals reported.
Update (8/24 1:35 P.M.): According to AFP on Twitter: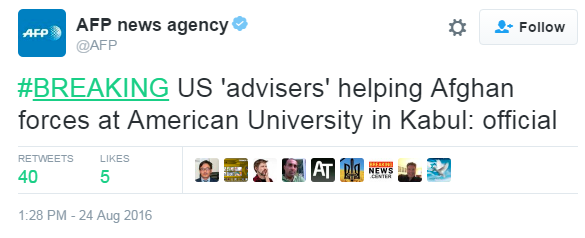 Update (8/24 1:21 P.M.): According to ABC News: The gunfire that was reported in the vicinity of the school has now stopped, according to a source in the Kabul Police Force. The same source told ABC News that two people were killed and five were injured in the attack.
Original Story: Sky News is reporting that several gunmen are inside American University in Afghanistan. Multiple explosions are being reported as well.
Here is the latest according to Sky News:
There are reports of several explosions and sporadic gunfire on the campus where there are hundreds of students and academics.

Gunmen have attacked the American University of Afghanistan in Kabul , with explosions and gunfire reported inside the campus.

"Several gunmen attacked the American University in Kabul and there are reports of gunfire and explosions," an Afghan interior ministry official said. 

"They are inside the compound and there are foreign professors along with hundreds of students."

The senior interior ministry official said elite Afghan forces had surrounded the university compound.

Early reports were that several gunmen, some wearing suicide vests, were involved, he said.

Police said there were a number of dead and injured. 

Ahmad Shaheer, a student at the university, told Reuters by telephone that he was trapped inside the university.

"We are stuck inside our classroom and there are bursts of gunfire," he said.

The university's president confirmed a militant attack was underway on the campus.

The attack comes two weeks after two university staff were kidnapped from their car by unknown gunmen.

Their whereabouts are still unknown.
Here is a tweet with a picture from around the situation.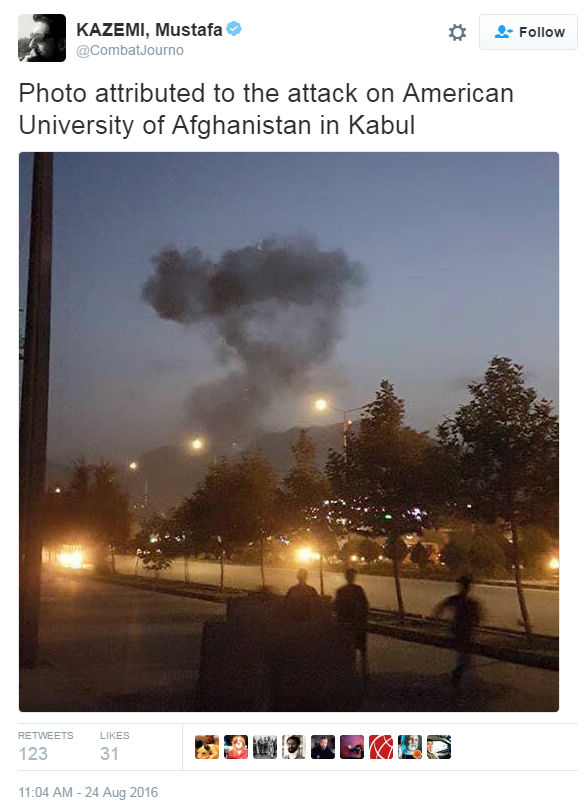 Stay with MRCTV as we update the situation.