The man known to many in his country as "Brazilian Trump" was stabbed during a campaign rally in Juiz de Fora, Brazil on Thursday.
The attack occurred while presidential candidate Jair Bolsonaro was being carried on the shoulders of supporters. Bolsonaro was then stabbed in the upper part of the abdomen, impacting his "liver, lung and intestine," according to a translated tweet by Bolsonaro's son Flavio Bolsonaro.
Here are Flavio Bolsonaro's tweets about his father's condition, with automated translations: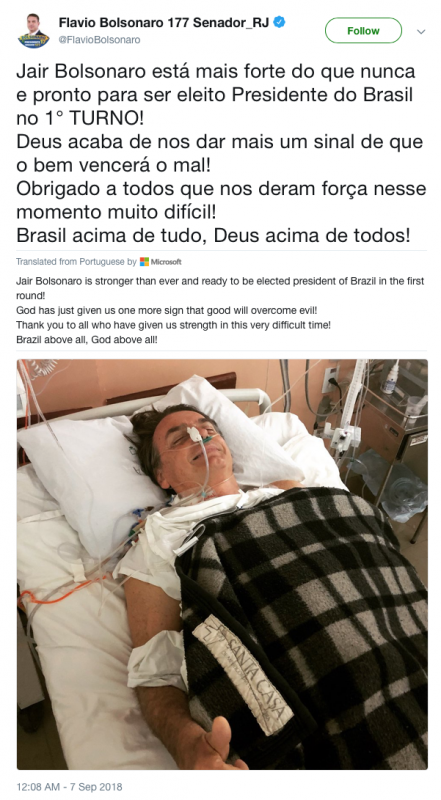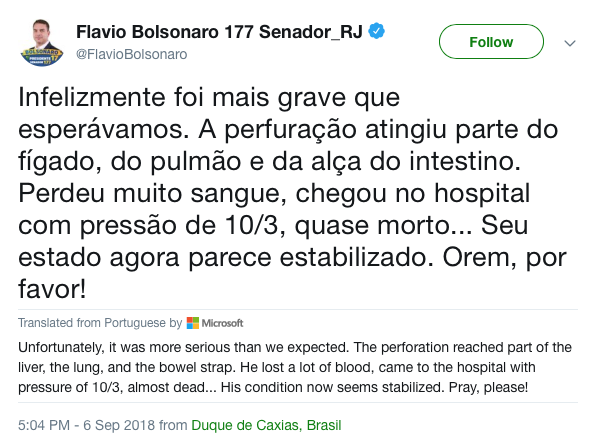 According to the Washington Times:
Despite being a congressman since 1991, Bolsonaro is running as an outsider ready to upend the establishment.

While he has a strong following, Bolsonaro is also a deeply polarizing figure. 
Bolsonaro is "estimated" to be the frontrunner in the Brazilian presidential election with a 10 percent lead over former president Luis Ignacio Lula da Silva, according to CNN.
Whether you agree with a politician or not, physical attacks on politicians will only make martyrs out of them and embolden their base to increase their support.
What happened to out-debating people you disagree without the fear of being attacked? I understand people are passionate about their causes, but resorting to attempted murder doesn't get anything done for said cause.
For coverage of the attack, watch below: