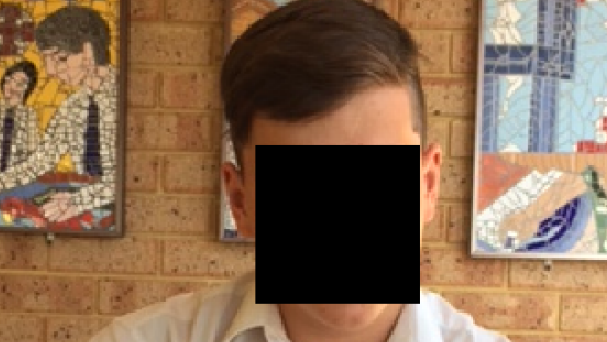 (Image source: 6PR)
A boy in Australia was allegedly sent home from school for looking like a boy.
News.com.au reports Jake, a student at Corpus Christi College in Australia, was sent home after his teachers argued his new short haircut could "offend" people.
Jake's mother, Sandra Fedele, told 6PR's Gary Adshead, "This morning he went to school on his last day to get his exam results, he's Year 10, he got told, he text me and said 'Mum, I've been told I have to go home, I'm not allowed to be at school, my hair's too short.'"
"We had a wedding on the wedding and he got his hair cut. So has his hair cut short on the side and it's cut just a little long on the top. It's not even 2 centimeters long on top, so it's not like it's a long fringe down to his nose or anything like that. He's just got a boy's haircut. Literally a boy's haircut," she explained.
When Sandra arrived at school, teachers allegedly told her the haircut violated school rules for being too short and therefore potentially offensive.
Even though Jake's mother provided a barber's note that the haircut was a "number two," which falls under the school's guidelines, the school said Jake had to wear a hat for the rest of class since his hair was still too short.
"He hasn't got a shaved head, stripes or swirls to say he looks gangster-ish. It's a boy's haircut," Sandra said.
Upon observing a photo of Jake and his new haircut, Adshead said, "It's not even a short back and sides, essentially, because it's a short back and long enough on top, and it's longer on the top. It's clear as day."
Asked for a statement by the West Australian, Corpus Christi declined to comment. Catholic Education WA said the school cannot comment on individual situations:
The college has a clearly defined and consistently applied uniform policy, and parents and caregivers agree to this policy when enrolling their child as a student of the college.

It is intended that uniform standards will be adhered to by all students, whenever attending school.

Decisions by college staff regarding the enforcement of the uniform policy are always made in the best interests of each student's education.
After social media backlash, Jake was eventually allowed to attend his school end-of-term Rivercruise, which Sandra had reportedly already paid for twice.
Please support MRCTV today! (a 501c3 non-profit production of the Media Research Center)
DONATE