Suffolk County District Attorney-elect Rachael Rollins will be taking a new approach to dealing with "petty crimes" in Boston when she steps into her new position in January, including giving criminals a "get out of jail free card" when they commit less serious crimes.
Rollins' campaign webpage shows a list of 15 charges that will be declined for prosecution "unless supervisor permission is obtained." Charges from "trespassing" to "drug possession with intent to distribute" all the way to "resisting arrest" will be dismissed, so offenders who commit these crimes will no longer have to worry about the consequences of their actions.  
Here's the list of 'charges to be declined':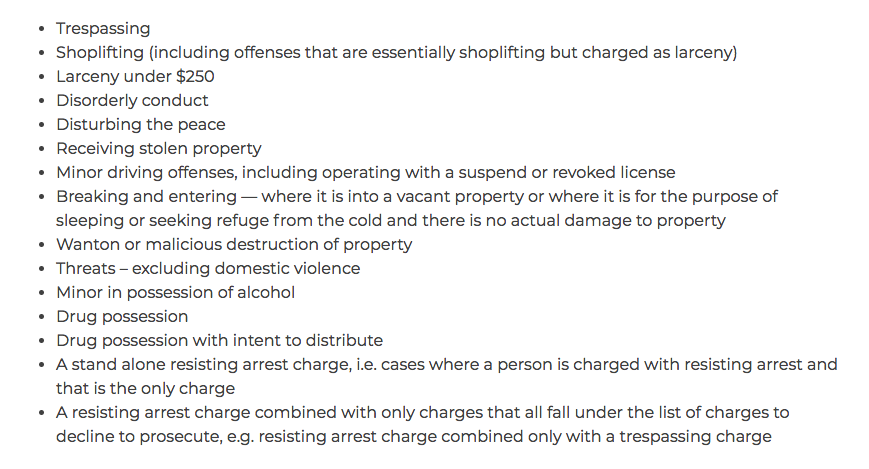 According to Rollins webpage: 
"Instead of prosecuting, these cases should be (1) outright dismissed prior to arraignment or (2) where appropriate, diverted and treated as a civil infraction for which community service is satisfactory, restitution is satisfactory or engagement with appropriate community-based no-cost programming, job training or schooling is satisfactory."
Before winning the DA election, Rollins did tell the Boston Globe that this list was not a "mandate" and that she would sit down with Boston Police Commissioner William Gross to talk about her approach. 
"I'm going to sit down and I'm going to listen. This is not a mandate," Rollins told the Globe. "Certainly there will be conversations, if I go forward, with the men and women who are dealing with this every day. . . . I'm not backing down, but what I'm saying is that as your next DA, I know I'm going to need a good relationship with — and a strong respect for — law enforcement."
Rollins approach does cause concern for some including Boston Police Patrolmen's Union President Michael Leary, who says he's "very concerned" that Rollins' approach will increase the crime rate in Boston, the Boston Herald reports.
"I think that the quality of life is going to go down because she's not going to prosecute these people and they are going to keep doing it," he told the Herald, right before Rollins' election win. "If she's not going to prosecute it, it's going to make our job harder." 
"Our job is already dangerous. Its unbelievable to think people are willing to make it more dangerous for us," Leary told WBZ. "I fear that officers will begin to see even more aggressiveness than we already face on a daily basis…if there are no consequences, offenders will figure, 'Why not resist?'"
How this turns out, is yet to be determined. Rollins will take her position in the District County District Attorney's Office in January 2019.
H/T: Blue Lives Matter