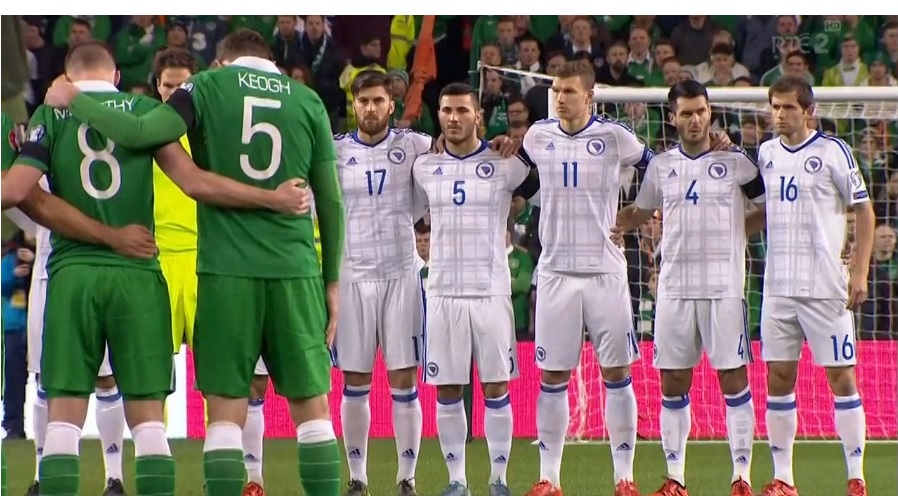 (Image Credit: Print screen of thumbnail from Balls.IE's video of the event)

Earlier this evening, a group of Bosnian soccer fans were caught on video disrupting a moment of silence for victims of Friday's terrorist attacks in Paris.
A video posted to the Instagram account of the British sports website Joe.Co.UK, allegedly shows Bosnian fans jeering during the pre-game moment of silence before their Euro 2016 playoff match versus Ireland.

The brief video can be viewed here, and the Instagram post description reads: "Footage of fans at the Bosnian end of the Aviva breaking the minute's silence during Ireland v Bosnia[.]"
Joe.Co.UK reports that "a disgraceful minority of Bosnian fans decided to disrespect the moment of quiet remembrance and jeered loudly as the rest of the Aviva stadium bowed their heads."
Their report added that the Irish fans "booed in unison" in response to the Bosnian fans disrespectful gesture after the moment of silence ended.
Ireland won the match two goals to none, qualifying for the 2016 Euro tournament.
Another video showing the full extent of the incident was posted by Irish sports website Balls.IE. This video shows Irish fans cheering at the end to drown out the jeers.