As immigration and border traffic continue to stall thanks to the coronavirus pandemic, illegal alien apprehensions at the Southwest U.S. border plummeted to a three-year low last month, dropping below 17,000 for the first time since April of 2017.
According to data from U.S. Customs and Border Protection, only 16,789 illegal aliens were caught trying to cross the border between points of entry in April. That's only about half the nearly 35,000 who were caught in the month of March, when both the U.S. and Mexico governments began implementing stricter measures at their borders to try to contain COVID-19.
Of those, the vast majority – 14,524, in fact – were single adults. Only 734 were unaccompanied minors, and a mere 604 were members of family units.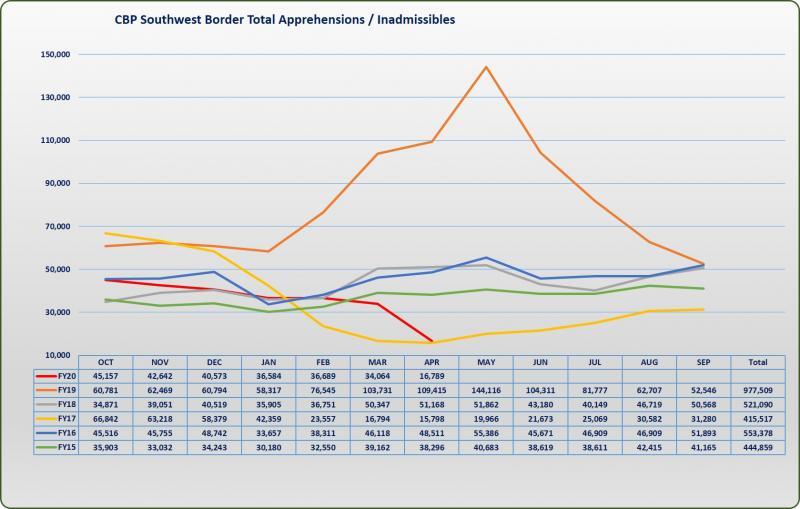 April's apprehensions mark a major drop over monthly totals from the past few years, when the number of illegal aliens fluctuated from a low of about 16,000 in April of 2017 to a record high of 144,311 last May.
The number of illegal aliens nabbed at the border began dropping in March, falling nearly 70 percent from 2019 totals. While nearly 104,000 illegal aliens were caught at the border in March of 2019, only 33,000 were nabbed during that same time frame this year.In fact, according to CBP's data, monthly apprehension totals have only dropped below 17,000 three times in the last 6 years, including last month. Until now, the lowest point for illegal immigration came just a few months after President Trump took office, as his administration promised new measures to curb illegal border crossings and vowed to immediately deport illegal aliens who were caught crossing the border between points of entry.
Unless extended, the Trump administration's coronavirus-related restrictions on legal activity at the border run through May 19, and include limiting movement across the border to only travel considered "essential," which includes anyone involved in legal trade, commuters, students, and legal permanent residents returning to the U.S. Tourists continue to be barred from entry during the shutdown.