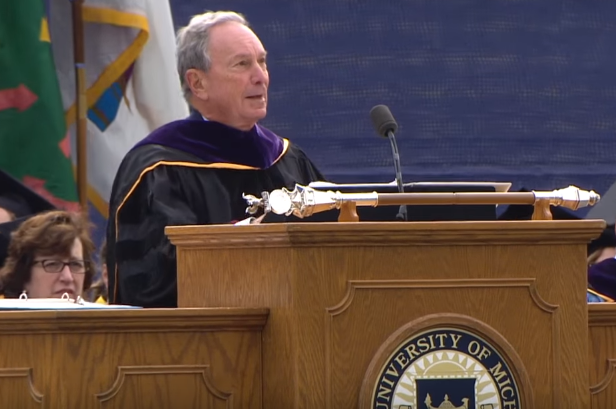 (Image: Screenshot/YouTube)
Well, someone needed to say it. The source, however, was a little surprising.
When former New York City Mayor and Bloomberg Founder Michael Bloomberg delivered the commencement address at the University of Michigan on Saturday, he didn't hesitate to give his view on campus activism.
During his speech, Bloomberg spoke on hard work and thinking for yourself outside of the ideology politicians blather on and on about.
Bloomberg talked about how college is supposed to be a place for a free exchange of ideas, but in the last decade or so they have become intolerant indoctrination centers.
"The fact that some university boards and administrations now bow to pressure and shield students from these ideas through 'safe spaces,' 'code words' and 'trigger warnings' is, in my view, a terrible mistake," said Bloomberg to some applause and audible booing.
Bloomberg then spoke briefly about his own political career, and mentioned how both parties need to come together instead of constantly being at each other's throats.
"I've been both a Republican and a Democrat," Bloomberg began, "so I can tell you neither party has a monopoly on good ideas, and each demonizes the other unfairly and dishonestly."
Bloomberg's final thoughts to the graduates of this year's Wolverine graduating class seemed like a dagger thrown at the heart of this year's political process:
Today, when a populist Democratic candidate promises free college, free healthcare and a pony or another candidate promises to make other countries pay for our needs, remember, those who promise a free lunch will invariably eat you for breakfast.
To view Bloomberg's comments about college life today, watch below:
To watch Bloomberg's full University of Michigan commencement address, click here.