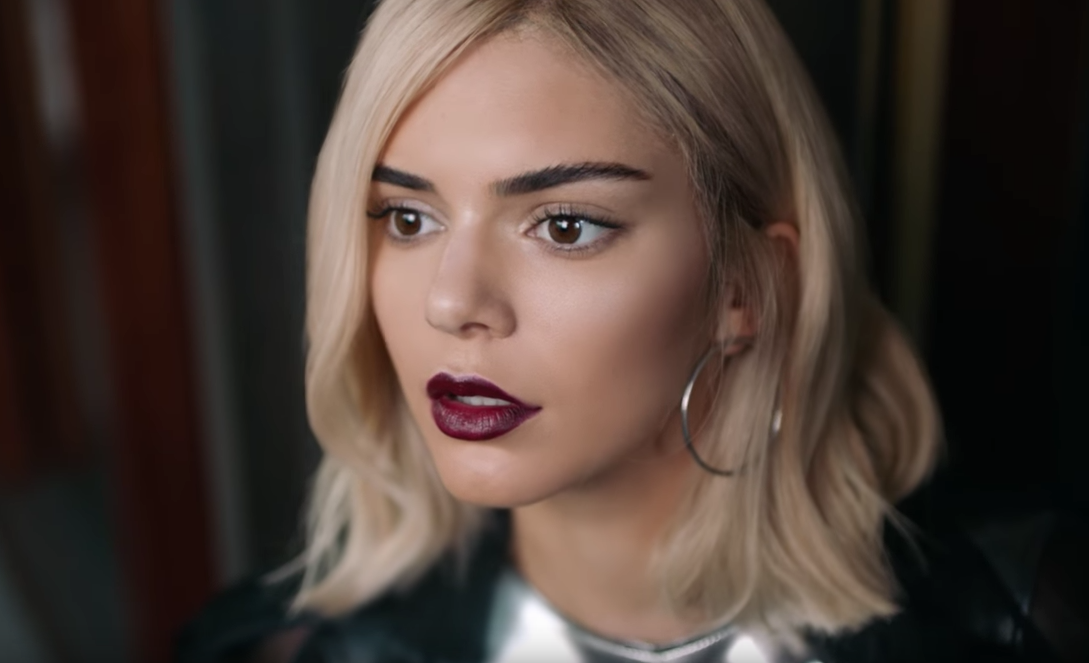 Update, 3:25 p.m. ET:
Pepsi has pulled its ad following the backlash. In a statement, Pepsi apologized for missing the mark and for "putting Kendall Kenner in this position."
The statement reads in full:
Pepsi was trying to project a global message of unity, peace and understanding. Clearly we missed the mark, and we apologize. We did not intend to make light of any serious issue. We are removing the content and halting any further rollout. We also apologize for putting Kendall Jenner in this position.
Original story
Pepsi is under fire for using a household name and its brand recognition to bring attention to social justice protests because its advertisement did not pay proper homage to Black Lives Matter.
In the newly released ad, Pepsi features supermodel and reality television star Kendall Jenner drinking a can of Pepsi as she models in front of a street where people are protesting. After taking a few shots for the camera, Jenner decides she wants to be a part of the movement. The end of the ad features Jenner not only participating in the protest, but also offering a police officer a bottle of Pepsi:
Since the ad isn't an explicit, divisive endorsement of Black Lives Matter and portrayed Jenner interacting with a police officer in a positive light, activists claimed the the ad is an "appropriation" of their anger.
Huffington Post Black Voices associate editor Taryn Finley said the ad is "tone-deaf, shallow and overproduced" and that it shows "blatant disrespect and appropriation of a movement":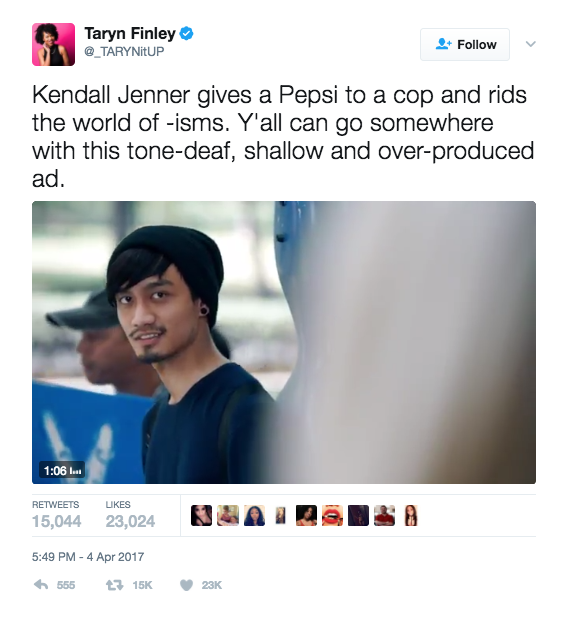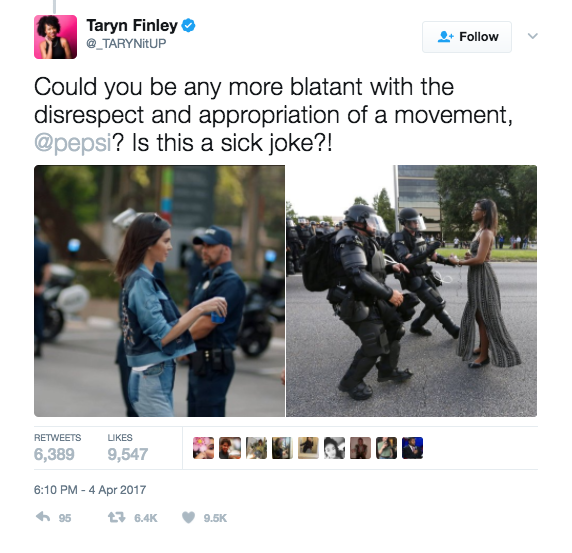 Black Lives Matter activist DeRay Mckesson called the ad "trash," joked that he wouldn't have gotten arrested if he had a Pepsi, and shared a statement he derided as "tone deaf":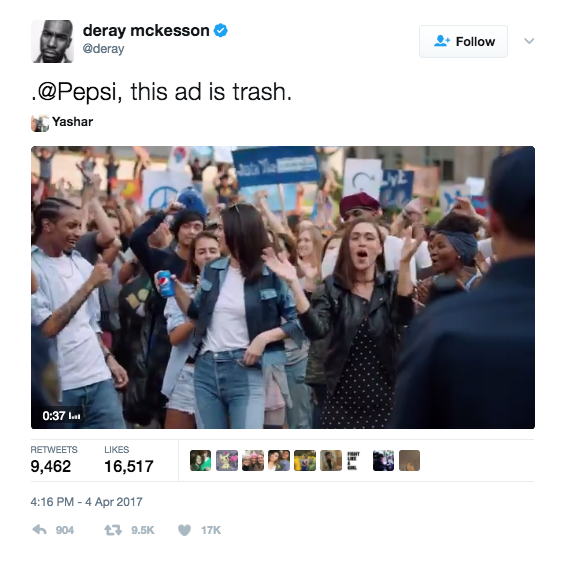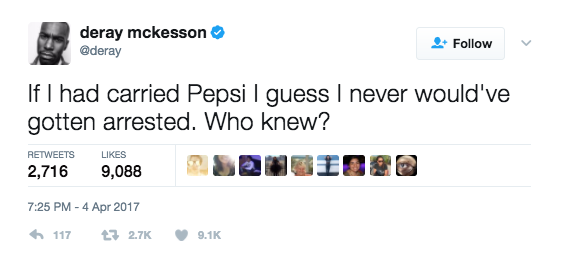 Writer and comedian Travon Free called the ad a "perfect example of what happens when there's no black people in the room when decisions are being made":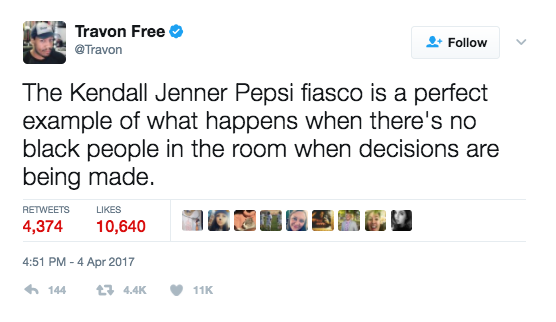 New York Times columnist Charles M. Blow referred to the ad as "blasphemy" and called for an apology: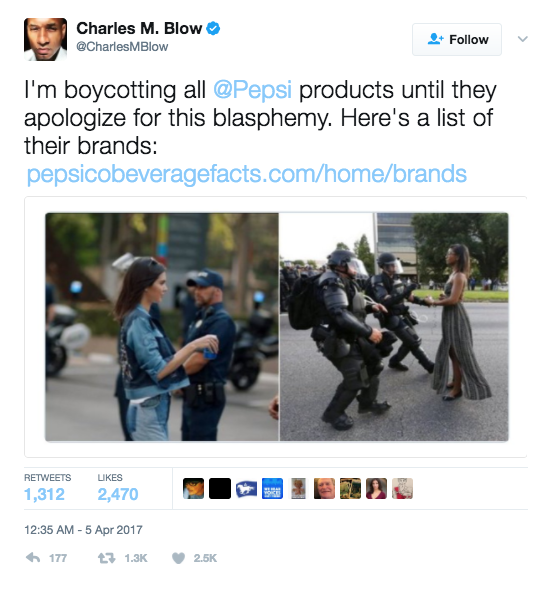 NBC News joked in their lede, "If the Black Lives Matter movement were led by a 21-year-old white supermodel armed with a can of fizzy soda, then maybe everyone would just get along."
Instead of sucumming and issuing an apology for the ad, in a statement to Teen Vogue, a spokesperson for Pepsi said the ad "showcases a moment of unity":
The creative showcases a moment of unity, and a point where multiple storylines converge in the final advert. It depicts various groups of people embracing a spontaneous moment, and showcasing Pepsi's brand rallying cry to 'Live For Now,' in an exploration of what that truly means to live life unbounded, unfiltered and uninhibited.
Thank you for supporting MRCTV! As a tax-deductible, charitable organization, we rely on the support of our readers to keep us running! Keep MRCTV going with your gift here!