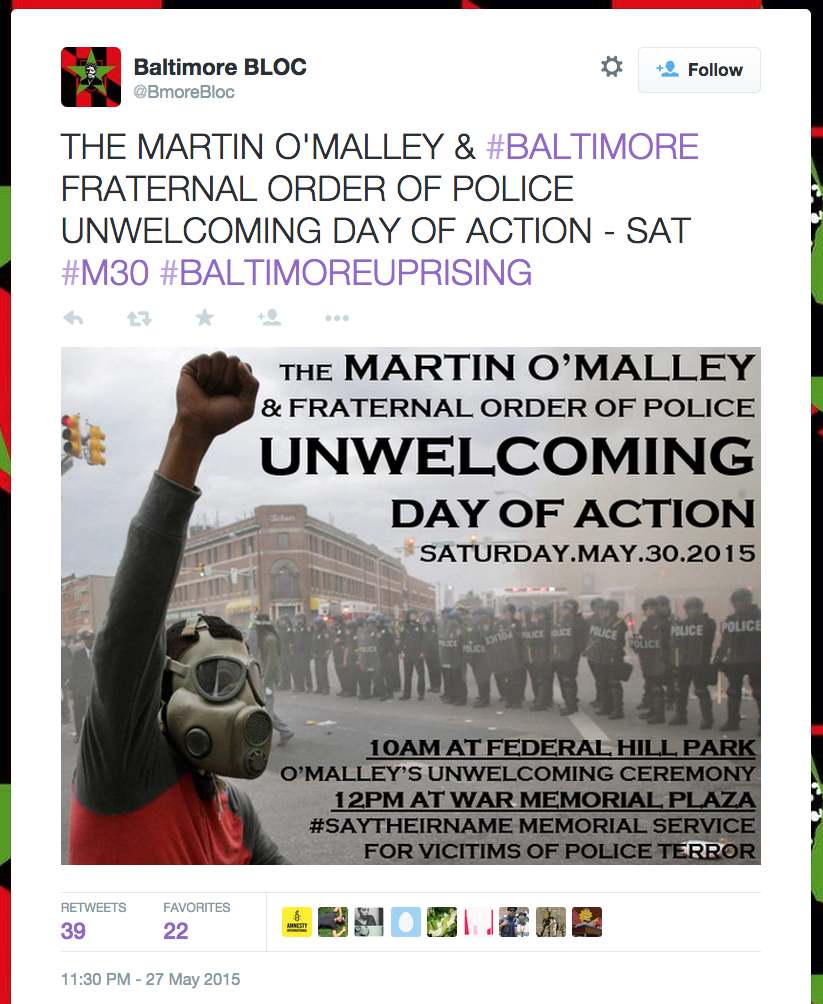 As former Maryland governor Martin O'Malley gears up to announce his bid for the presidency in Baltimore on Saturday, a group called Baltimore BLOC is organizing a demonstration to condemn the Democratic candidate.
Members of the "grassroots collective" are gathering at Federal Hill Park on May 30 to "remind [O'Malley] how unwelcome he is."
The group announced Saturday's "Unwelcoming Day of Action" via Twitter, welcoming "all concerned Baltimore residents" to participate.
After the rally at Federal Hill Park, Baltimore BLOC is planning an anti-police, Black Lives Matter rally in front of the War Memorial Plaza, purposefully scheduled to interfere with a Baltimore Fraternal Order of Police ceremony honoring local law enforcement.  
During their counter-rally, the group is hosting a "#SayTheirNames Memorial Service," where they plan to read the names of people allegedly shot and killed while in Baltimore Police custody over the past 10 years.
Ahead of the upcoming "Unwelcoming Day of Action," Baltimore BLOC released a video entitled "The Baltimore Uprising - Part I" via their Facebook page on Tuesday with footage from the civil unrest that took place back in April.
According to the group, "Part 2 is coming soon..." 
Check out the video below.