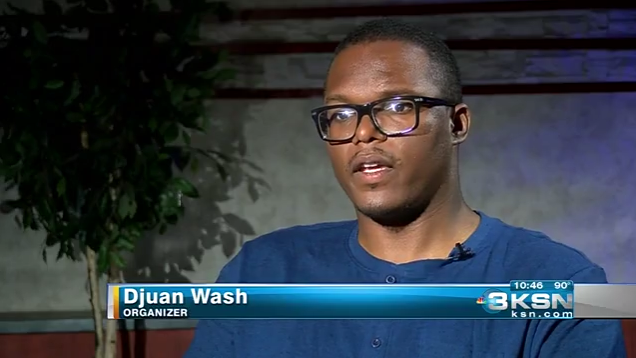 Last Sunday, Black Lives Matter activists and the Wichita Police Department put on a barbecue that gathered their community together. They held discussions about what the police were doing to protect their community and had a wonderful time. Almost everyone walked away with the feeling that the community was moving in the right direction.
That same day, three cops were killed by a black man in Baton Rouge. Many people saw the Wichita, Kan. barbecue as the best way a community had stepped forward to try and mend that tear.
Black Lives Matter iDC, apparently, did not see it the same way. On Wednesday, a group of people claiming to represent the D.C. chapter of Black Lives Matter sent out a tweet, blasting the event. They said, "This is not an official Black Lives Matter Chapter! This is not in Line with our principles."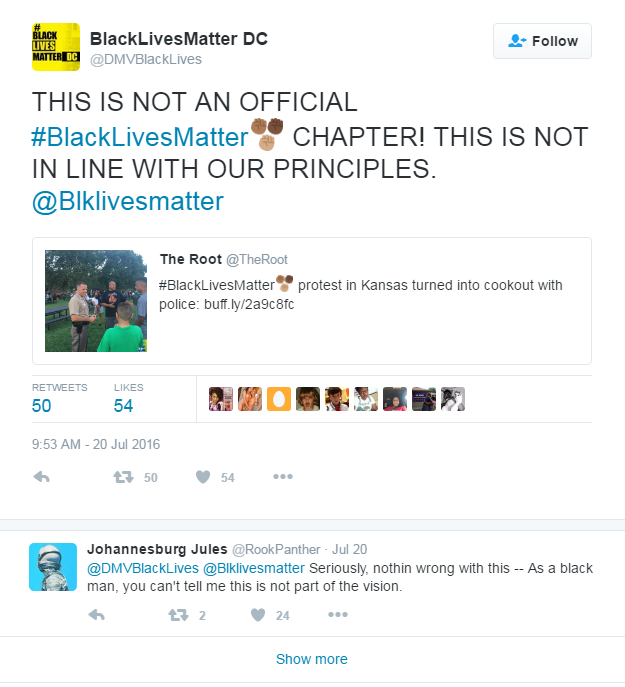 How exactly is a peaceful get-together between blacks and police officers, which allowed difficult questions to be discussed, opposed to BLM principles? It sounds like the exact thing they should be hoping to take place. Further, what makes BLM DC the offical spokesmen for black individuals everywhere, or even Black Lives Matter activists in D.C.? What makes their principles the principles that dictate what black people should do in Kansas to help bring about peace? 
In an interview with KSN, two of the barbecue organizers stepped forward to defend their actions. "For us, it's been a really good week, and a really bad week at the same time," said Dujan Wash, whose organization, Sunflower Community Action, took a leading role is setting up the barbecue.
"A lot of the message was lost in the fray" Wash added. According to Wash, the message the barbecue tried to get across was that "organizing and activism works."
The activists admitted that the barbecue was not an "official" Black Lives Matter event, but instead, was a way to be proactive with their local police department. That form of activism seemed to have done more good than any road barricade "official" BLM activists have built.
"Everybody thinks we're out there just having this grand ol'time, but really we were addressing some of the issues that have been plaguing this community for quite some time," A.J. Bohannon added.
Both of the activists wanted to clarify that, before the party took place, there was a question and answer session with the Wichita police chief.
"The chief made some concrete commitments to address an issue with the cultural competency and diversity training with the citizens review board, and for lobbying with legislation to investigate his own officers," Wash explained.
"Bringing in community leaders is critical for our success, not only for the police department, but for the city as a whole," Police Chief Gordon Ramsay said.
"We need more police chiefs like Chef Ramsay to be willing to have these tough conversations with people in the community, but also put words to action," Wash concluded.
Both protesters agreed that the barbecue was definitely a step in the right direction, despite any backlash they may have received.
On Friday, Black Lives Matter DC took to Twitter to explain why they attacked the barbecue.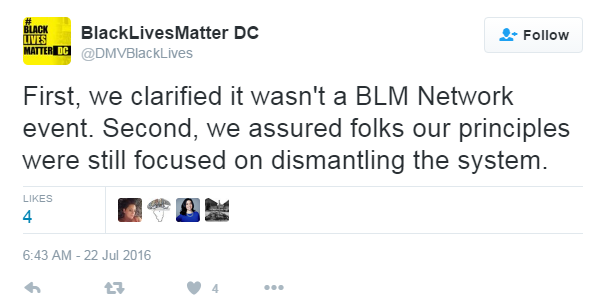 They wrote, "First, we clarified it wasn't a BLM Network event. Second, we assured folks our principles were still focused on dismantling the system."
The barbecue in Wichita tells the world that cops and blacks are not opposed to each other. Maybe BLM should actually try to correct the issues they see in the system before they try to tear it down.