It was a simple casket for a great man who passed into glory the same way that he'd lived: humbly, and with a heart for others.
The remarkable life of Billy Graham, one of America's greatest evangelists, was celebrated Friday at an invitation-only funeral service in North Carolina, where Graham's body lay in a simple $200 plywood and pine casket built by inmates at the Louisiana State Penitentiary in Angola, Louisiana.
A Facebook post shared Friday by Billy Graham's son, Samaritan's Purse founder Franklin Graham, showed the touching scene: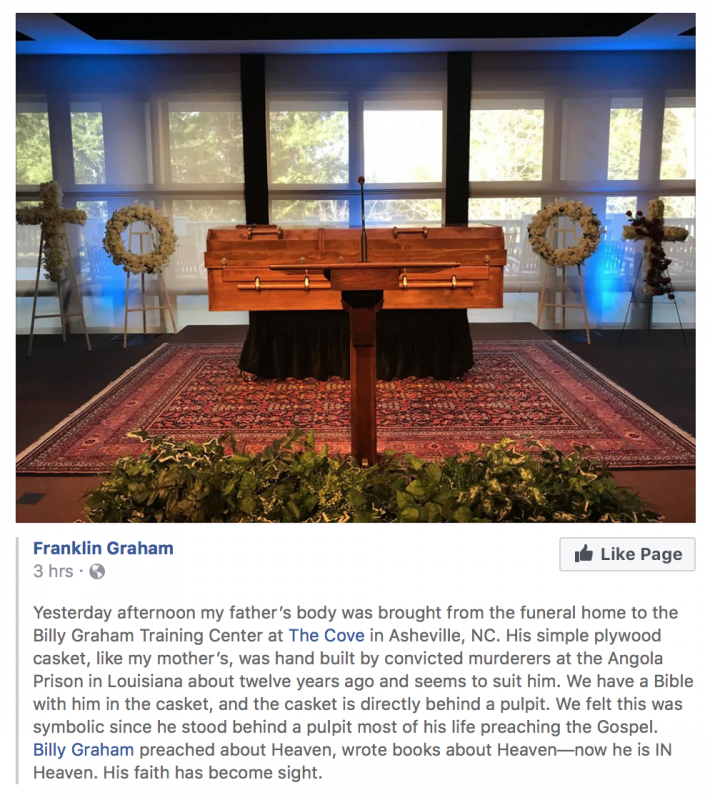 The story goes something like this. In 2005, Franklin Graham had just wrapped up a sermon at the Louisiana prison when the warden told him that inmates had been building caskets for their fellow prisoners who died in incarceration. 
"He asked if they could make one for his mother and father," said Mark DeMoss, a family friend and prominent Christian PR executive. "The caskets are made of pine, plywood and lined with a mattress pad. A wooden cross is nailed to the top of the casket."
Graham's five children adorned their father's simple casket with a simple spray of white lilies in the shape of a cross, the same floral arrangement that their parents had often sent others for funerals of their loved ones.
Billy Graham's wife, Ruth, was laid to rest in her simple casket after she passed away in 2007.
Graham died peacefully in his sleep on Wednesday at the age of 99. His body will be honored at the Capitol Rotunda next Wednesday and Thursday before being laid to rest on March 3.