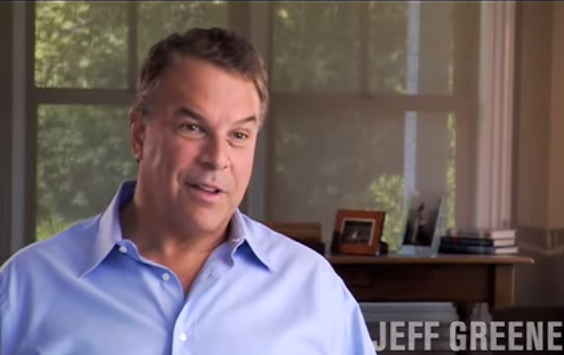 "Our economy is in deep trouble," said billionaire and self-professed American Dream-liver Jeff Greene in an interview yesterday at the World Economic Forum in Davos, Switzerland. "We've had a realistic level of job destruction, and those jobs aren't coming back."
Greene, who's made a multi-billion dollar fortune betting against sub-prime mortgage securities, says "the U.S. faces a jobs crisis that will cause social unrest and radical politics," reports Bloomberg.
Greene also "manages about $2 billion in financial investments, more than $750 million in real estate and at least $1.5 billion in assorted property development projects," Bloomberg reported.
The investor went on: "America's lifestyle expectations are far too high and need to be adjusted so we have less things and a smaller, better existence. We need to reinvent our whole system of life."
Greene hosted daily sex-parties on his yacht the Summerwind, according to Sharyn Peach, his former stewardess, so his advice that regular Americans should scale back might grate a little. On the other hand, this is a man who made his fortune on accurate predictions, and the 60-year-old Greene's biggest fund was up over 20 percent last year equally impressive predictions "on Apple Inc, Google Inc., bank stocks and mortgage-backed securities," Bloomberg reports..
"My greatest worry for our country is that globalization and the exponential growth of technology which have destroyed millions of jobs already, will undoubtedly eliminate millions and millions more jobs during the next several years," said Greene. "Many manufacturing jobs that we lost will come back to the U.S., but most will be filled by robots and software."
Greene told the crowd that, "I started with nothing and have lived the American dream. My office is right next door to the Breakers Hotel in Palm Beach where I worked as a busboy and waiter working my way through college. Every day when I go to work, I drive by the Breakers and I'm reminded of the great opportunities I've had, and my goal is that these opportunities are again available to today's busboys. That's why I'm at Davos, in the Giving Pledge, donate to hundreds of charities and am willing to invest a lot of time and money in a conference."
Greene has pledged to donate 80 percent of his estate to his foundation and joined Warren Buffet's Giving Pledge in 2011.