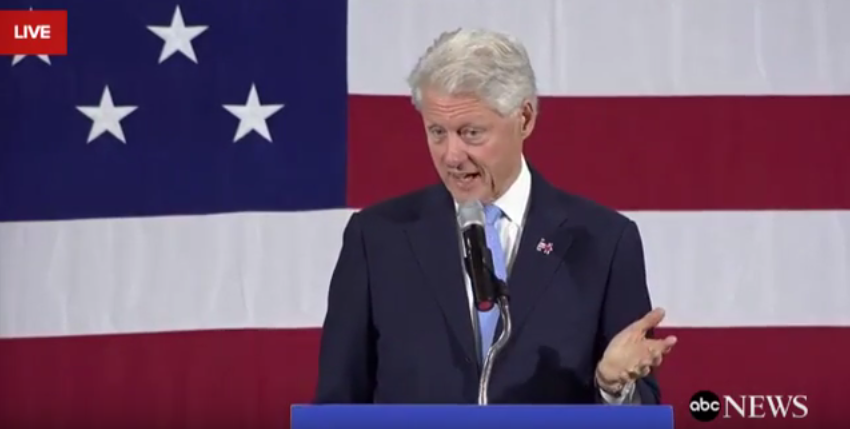 (Image via Screenshot)
While campaigning in Connecticut ahead of the state's primary on Tuesday, Bill Clinton painted Republicans' Benghazi probe as a political crusade against his wife and former Secretary of State Hillary Clinton.
During his remarks, the former president defended Hillary as being an innocent bystander harassed by Republicans in their investigation into the 2012 attack on a U.S. consulate in Benghazi, Libya that left four Americans dead, including U.S. Ambassador Chris Stevens.
Clinton even went so far as to say Hillary "ate their lunch" when she testified before the House Select Committee on Benghazi back in October.
"They had seven committees look into that Benghazi thing," said Bill. "The first six were honest committees chaired by Republicans. They came up with the same thing. They said, 'Look, yeah, there needs to be some changes made. But she's not responsible – no secretary of state has ever been responsible for security stuff.'"
"But she did immediately take responsibility for implementing the recommendations in the story," he added.
Clinton went on to say that the Benghazi probe was "the only time in the history of the country that any party has ever politicized" a foreign policy oversight involving loss of life "in that way."  
"They questioned her for 11 hours and, if I can be colloquial, I think she ate their lunch, because they were so political," said Bill.
House Select Committee on Benghazi Chairman Trey Gowdy (R-S.C.) would beg to differ.
In an interview leading up to the Benghazi hearing, Gowdy said that the members of his committee are "much more focused on the four dead Americans than anyone's presidential aspirations."
Listen to Bill Clinton's remarks in the video clip below.