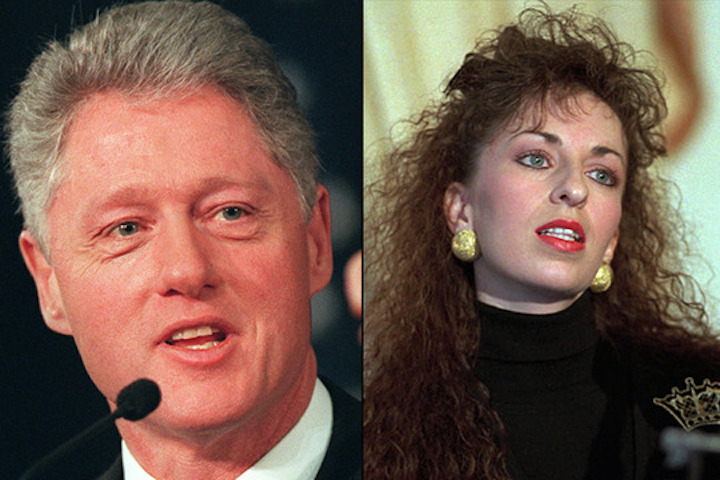 It looks as if Bill Clinton will be taking his old baggage with him as he begins to campaign for his wife in Iowa and New Hampshire. The Washington Free Beacon is reporting that the former president described one of the women from his sex scandals, Paula Jones, as a "floozy" and a "nobody" who only sued him for sexual harassment to get her fifteen minutes of fame. 
Paula Jones was the former Arkansas state employee who sued Bill Clinton for sexual harassment claiming that, when he was governor, he exposed himself to her and asked her to perform a sexual act. During his deposition for the case, Clinton perjured himself by denying that he ever had sexual contact with Monica Lewinsky. It was this perjury that led to his impeachment and his disbarment. Eventually, Bill Clinton settled the case out of court for $850,000 without admitting guilt.
The Beacon obtained recording made by the former president's friend and biographer, Taylor Branch, which served as notes for a conversation he had with the then-president on Oct. 2, 1997 (immediately after the conversation, he made the recording).
In the recording, Branch says Clinton discussed the pending sexual harassment lawsuit brought against him by Paula Jones:
"[Clinton] said they had now changed Paula Jones's hair style, made her look less like a floozy, and that she didn't seem to have any visible income but was always driving a new car," said Branch, a historian who drew from many of his diary entries to write his 2010 Clinton biography The Clinton Tapes.

"[Clinton] said … these political lawyers are going to tell her that there's not much likelihood that she would get any money out of this," continued Branch. "That it's just about [Jones] 'being somebody' because, if she settles the case, she goes back to being 'nobody,' and the trial is going to be her moment in the sun."
These tapes seem to add credence to Donald Trump's case that Hillary Clinton should not call others "anti-women" - especially, when she uses her husband as a campaign tool.
Eventually, (after he was caught) the former president apologized for lying about Ms. Lewinsky, but according to Branch, in another recording, it wasn't heartfelt:
"What contrition there was had to be coached out of him, because I sure didn't feel it tonight. I mean, there wasn't even a glimmer of 'I'm sorry, I let you down'—meaning me, not that I asked for it or anything. 'I see the hurt in people's eyes who believed in me.' I didn't sense any of that on a personal level," recalled Branch in a Sept. 30, 1998 recording after a conversation with Clinton at the White House.
About his wife, Hillary Clinton, the former president claimed the only thing she was upset about was that he was impeached: 
"[I asked], 'How are you and Hillary? How have you come through this personally?'" said Branch in a Dec. 29, 1998, recording.

"[Clinton's] answer was not about the relationship. His answer was 'Hillary was more upset about the impeachment than I was,'" Branch added.