Big Bang Theory producer Bill Prady tweeted Tuesday that honor killings of women under Sharia law might actually be an acceptable practice. Maybe. Well, he's not sure.
The slightly-more-than-disturbing admission happened while Prady – a man – was trying to school pro-life advocate Obianuju Ekeocha – a woman – on the issue of abortion. (Which was odd to me, as I thought only those with a uterus got a vote on the subject. But I digress.)
During the lengthy Twitter back-and-forth, Prady attempted to trump Ekeocha's pro-life argument by awkwardly tying in religion, arguing that a woman's right to kill her own child should be based on her personal faith.
In response, Ekeocha asked Prady if, by that exact same logic, he believed that honor killings under Islamic law should also be permitted, since they're also based on religion.

Here was Prady's shocking response: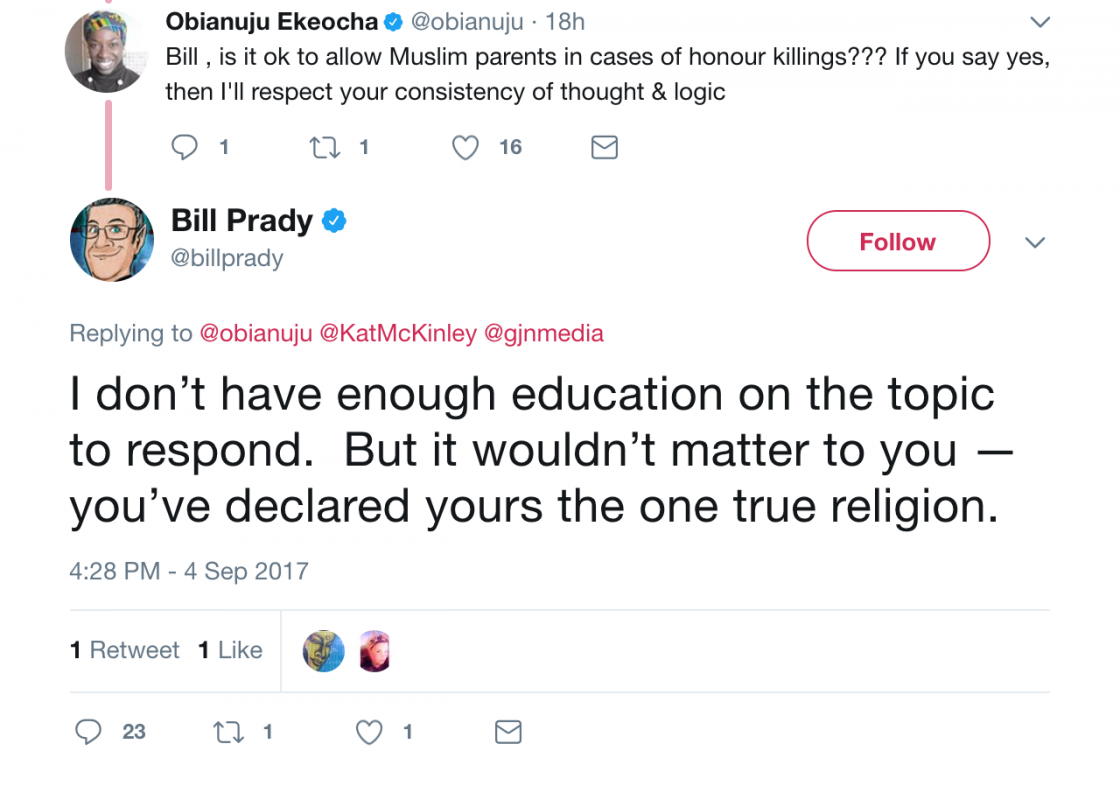 After several Twitter users expressed shock that any public figure would give a backhanded pass to honor killings – which have led to the gruesome death of countless innocent women, including rape victims – Prady backtracked, hilariously claiming he simply didn't know what honor killings were.
Here we go: we were discussing pregnancy. I assumed she was talking about killing pregnant women, and I had never heard of that.

— Bill Prady (@billprady) September 5, 2017
I assumed it was something to do with abortion. I wa unfamiliar with the phrase in that context.

— Bill Prady (@billprady) September 5, 2017
After getting embarrassingly owned by Ekeocha's use of basic facts and logic, Prady eventually blocked the pro-life advocate on Twitter.
I had a civil & level-headed debate about abortion with Bill Prady the Executive Producer of #BigBangTheory , then he blocked me😏.Hollywood. pic.twitter.com/bALmza5D2M

— Obianuju Ekeocha (@obianuju) September 5, 2017
And here we see, ladies and gentlemen, the response of a supposedly pro-woman, "feminist" liberal man: if you can't beat an intelligent woman in a debate, just get her to shut up.
Kinda like abortion and honor killings do.