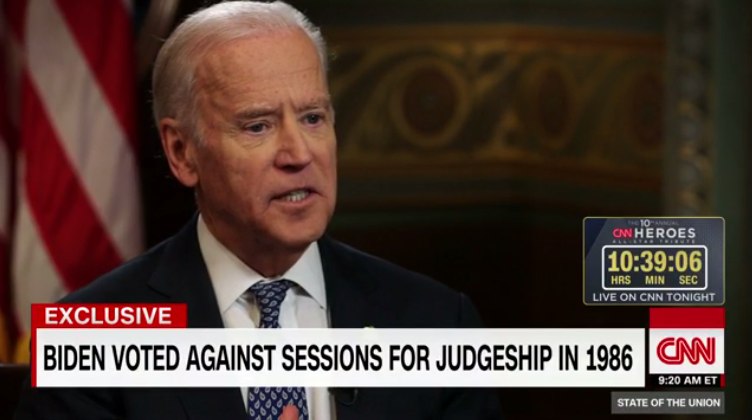 (Image via Screenshot)
Vice President Joe Biden said in a Sunday morning interview with CNN's Jake Tapper that while he wouldn't have appointed Jeff Sessions to be his attorney general, he's hopeful that the Republican senator of Alabama will serve faithfully in President-elect Donald Trump's cabinet.
"I wouldn't have appointed Jeff," said Biden. "But, you know, people learn. People change."
"Within bounds, the president should get the person that they want for the job as long as they commit under oath that they're gonna uphold the law," he added.
Then-Delaware senator Joe Biden led the fight against Sessions in 1986 that blocked him from becoming a federal judge, citing accusations that Sessions had made troubling comments with regard to race.
Now he says he's hopeful Sessions will uphold the law as Trump's attorney general, should he be confirmed.
"I am hoping he will," said Biden. "Let's see what he says in his confirmation hearing. Let's see what commitment he makes."
Check out his remarks below.