A wax sculpture of Beyonce at Madame Tussauds in New York City has stirred up cries of "whitewashing."
The wax sculpture in question, which was unveiled last week at the New York City location, is based off one of Beyonce's iconic looks, which features her blonde hair. However, after the museum announced the wax figure, they were accused of "whitewashing."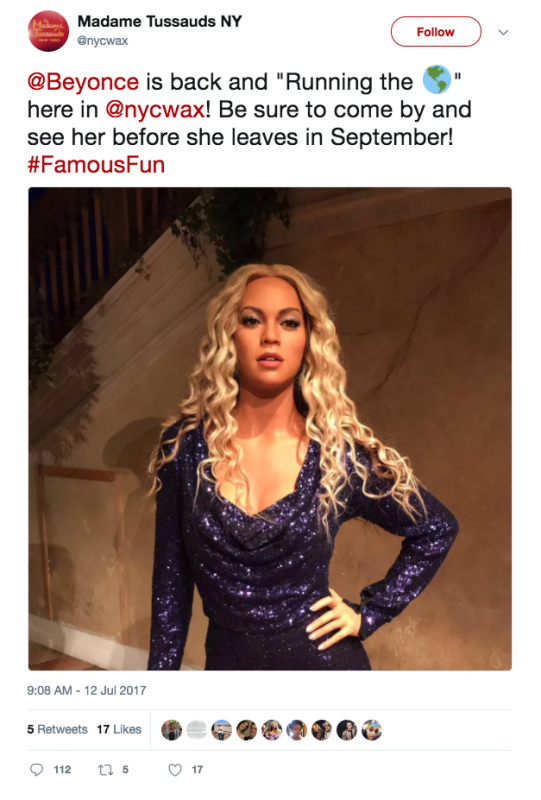 In response to the figure, some asserted it looks more like celebrities such as Kate Hudson, Lindsay Lohan, Britney Spears, and Rita Ora. Others claimed it could be Haylie Duff, Christina Aguilera, or Shakira. One user was even prompted to ask, "where is her melanin?"
or shakira? where is her melanin.

— Kaneischa Johnson (@SceneSister) July 19, 2017
Outside of Twitter, the figure also made international headlines for its "whitewashing."
The Daily Mail wrote, "Madame Tussauds accused of 'whitewashing' Beyonce's wax figure... as fans compare it to Mariah Carey, Taylor Swift, and Lindsay Lohan."
The Sydney Morning Herald stated, "Madame Tussaud's accused of 'whitewashing' as wax figure looks nothing like Beyoncé." Time even dropped the pretense of accusations of "whitewashing," writing, "The Internet Is in an Uproar Over This Photo Showing a Whitewashed Beyoncé Wax Figure."
In a statement to TheWrap, Madam Tussauds said the "whitewashing" could be entirely due to flash photography.
"At Madame Tussauds, our talented team of sculptors take every effort to ensure we accurately color match all of our wax figures to the celebrity being depicted," a spokeswoman said. "Lighting within the attraction combined with flash photography may distort and misrepresent the color of our wax figures which is something our sculptors are unable to account for at the production stage."
Before their statement, one Twitter user mocked Madame Tussauds for potentially blaming the flash photography for the appearance of the figure.
Other users on Twitter noted Beyonce wax figures at other Madame Tussauds locations appear to look more like the artist:
Thank you for supporting MRCTV! As a tax-deductible, charitable organization, we rely on the support of our readers to keep us running! Keep MRCTV going with your gift here!