It would appear that politics is not Senator and presidential candidate Bernie Sander's (D-VT) only passion. Apparently, the self-described socialist was also, at one point, an aspiring folk singer.  
In fact, he loved folk music so much that, in 1987, he recorded his very own folk album. The six track album entitled "We Shall Overcome" was recorded in-studio with the help of 30 other Vermont folk singers.
Side one includes five traditional folk standards with a "conversation" with Sanders on the second side.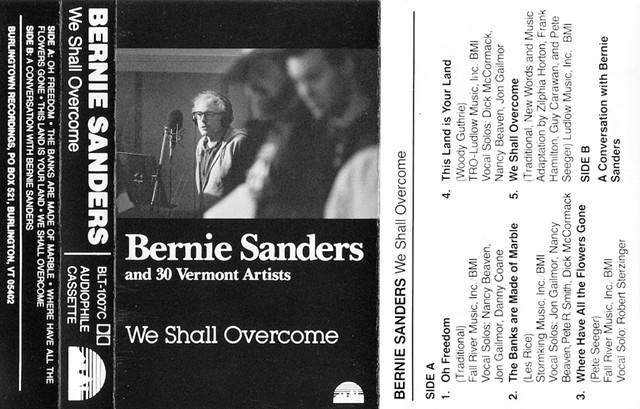 According to to one Vermont political blog, the album was recorded while Sanders was serving as the mayor of Burlington.
Apparently, at the time, everyone in Sander's inner circle thought the recording was a pretty good idea.  That was until they realized that Sander's had no musical talent, whatsoever.  So they hired a cadre of more talented musicians in order to try and make the album somewhat listenable. Did it work?  You be the judge.
Here's Sanders singing his rendition of the Woody Guthrie classic, "This Land is Your Land"
Folk music is still around and is quite popular with the people who long for the wonderful days of social upheaval that defined the 1960s.
Recently, a young woman with a bit more musical acumen than Sanders recorded a campaign song for the presidential candidate.  In the song, she laments the scourge of income inequality by comparing the problem to a birthday party where there's not enough cake for everyone.
Sure, the lyrics are inane, but I think Bernie would be proud.