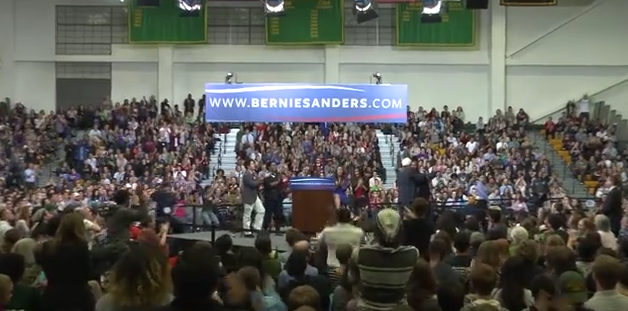 Presidential candidate Sen. Bernie Sanders (I-Vt.) physically embraced a George Mason University student who described Republicans as Islamophobes and "the biggest bigots" during a town hall event at the Fairfax, Virginia university on Wednesday.
Remaz Abdelgader prefaced her question about Sanders' plan to combat Islamophobia by stating, "With the growing Islamophobia in this country, if you look at all of the Republican candidates, in order to feed into their constituents, they're talking about Islamophobia and they're constantly bashing Muslims in the media. Ben Carson, Donald Trump, the biggest bigots."
As Abdelgader described herself as a "Muslim student, as an American Muslim student who aspires to change this world," Sanders motioned for her to come on stage. He then hugged her.
The hug received a standing ovation from the approximately 1,700 students in attendance.
Abdelgader then continued, "As an American Muslim student who aspires to change the world—currently majoring in international conflict analysis and resolution major—and I hope to be a human rights attorney, hearing the rhetoric that's going on in the media makes me sick because I, as an individual, am constantly trying to raise awareness and make sure that everyone is treated equally in this country. So to the next President of the United States, what do you think about that?"
"This is what I think," Sanders responded. "This is what I think. Let me be very personal here, if I may. I'm Jewish. My father's family died in the concentration camps. I will do everything that I can to rid this country of the ugly stain of racism, which has existed for far too many years."
"And let me tell you something: What racism is about is many, many things. It is pent-up hatred. It is lashing out at people in uncontrollable ways, but it is something very different than that. For many years in this country, you have had politicians—and I'm old enough to know this—who played black off against white. So they told white workers who are earning pennies an hour, they said, 'Hey, you think you're in trouble, but you're better off than the blacks who can't drink at a water fountain or go to your school.' And they told straight people, 'Well, you think you've got problems, but you're off than those gay people, right?' And they held men against women. We play one group off against another. Rich got richer and everybody else is fighting with each other."
Sanders concluded, "Our job is to build a nation in which we all stand together as one people. And you are right, there is a lot of anger being generated, hatred being generated against Muslims in this country. That's absolutely correct. There is hatred being generated against immigrants in this country. And if you stand for anything, we have got to stand together and end all forms of racism. I will lead that effort as president of the United States."
Sanders' statement has garnered the endorsement of the Council on American-Islamic Relations.
Sanders has made his remarks about Islamophobia part of his campaign website.