Over the weekend, Bernie Sanders told Chuck Todd on NBC's Meet The Press that guns used for self-defense should be banned. The Socialist senator from Vermont said, "Certain types of guns exclusively used to kill people, not for hunting, should not be sold in America." No further explanation was given, nor did Chuck Todd press him on this issue. 
Although no specifics were offered, Sanders most likely meant that handguns, certain rifles, and many shotguns should no longer be available for purchase in the United States.
Today, Bernie Sanders tweeted a picture reiterating his quote advocating for the banishment of guns manufactured with the sole use of killing people. 
The tweet, sent at 9:02 AM this morning was sent with the following graphic: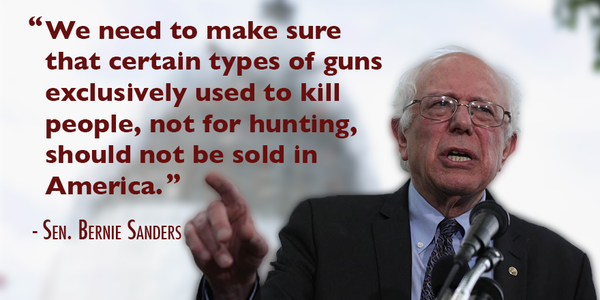 Despite these recent comments, Sen. Sanders has had a mixed record on gun issues, often causing ire with fellow liberals. In the senate, Sanders has repeatedly voted against gun control measures. He even voted against the Brady Bill in 1993, one of the most comprehensive gun control measures put into law. The NRA even endorsed Sanders in 1990.
Here is the clip of the interview from Meet The Press: