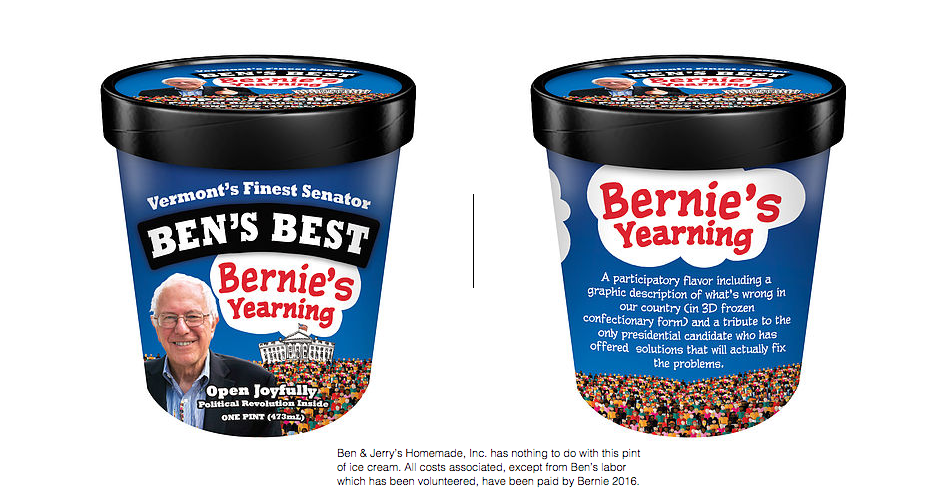 Ben Cohen, co-founder of Ben & Jerry's, unveiled a new ice cream flavor on Monday as a show of his support for Vermont senator and Democratic presidential candidate Bernie Sanders.
Cohen shared a picture displaying a pint of "Bernie's Yearning" ice cream on his Facebook page, saying, "Nothing is so unstoppable as a flavor whose time has finally come."
"Bernie's Yearning" is not an actual Ben & Jerry's flavor, to many Sanders fans' disappointment.
Cohen explains,
"Jerry and I have been constituents of Bernie Sanders for the last 30 years. We've seen him in action and we believe in him. When we're out speaking on his behalf people always ask if there's a Ben and Jerry's flavor. There's not. But if I were going to come up with one, this is what it would be."
The flavor consists of plain mint ice cream with a solid disc of chocolate on the surface representing "the top 1%." 
The pint description reads on the front, "Open joyfully. Political revolution inside." On the back of the pint are "instructions" on how to eat the ice cream like a true socialist.

Apparently a lot of people encouraged Cohen to create the flavor, so he decided to make 40 pints in his kitchen.
He donated 25 pints to the Sanders campaign and will be giving away the remaining 15 through an "enter-to-win" contest.  
It isn't clear whether a donation to the Sanders campaign is necessary for a person to be eligible to win, since the contest page directs you to a "Bernie 2016" donation page after entering your personal information into the sign-up column.