This is what Memorial Day is supposed to be about: a kind gesture — no matter how large or small — directed toward the members of our military who put their lives on the line for our freedom can go a long way in drumming up that patriotic feelings we get on a few designated days out of the entire year.
Our military should feel our love every single day, but the kindness shown to a U.S. Marine Corps JROTC member on Memorial Day shows that some Americans have not forgotten those military members that we've lost.
A baseball fan attending the Atlanta Braves game against the visiting New York Mets had his umbrella with him as the forecast called for rain.
The JROTC cadet was standing guard at the special SunTrust Park seat designated for a plaque commemorating Prisoners of War and those soldiers who are Missing in Action (POW/MIA).
Upon noticing that it had begun to drizzle, the man decided that he would use his umbrella — not for himself, but to shield the cadet standing guard over the POW/MIA seat.
The Atlanta Braves tweeted out a picture of the act of kindness. Here's the tweet: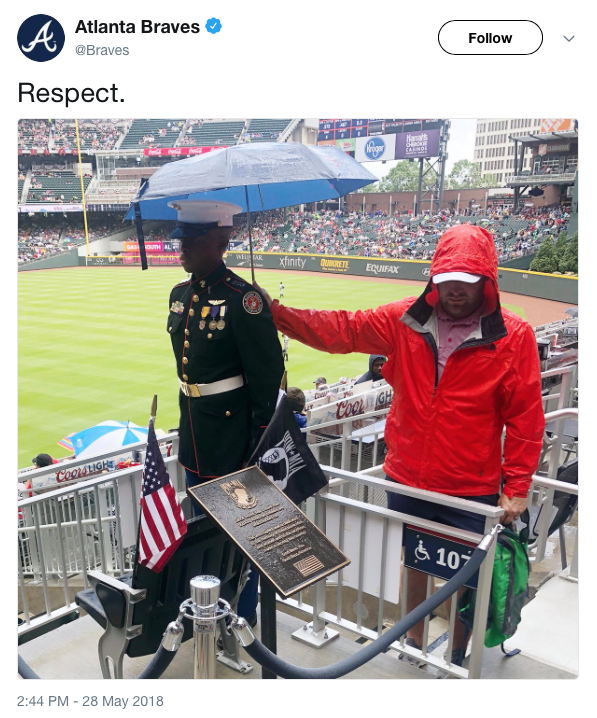 The man wasn't doing this for recognition, as he's yet to be identified. He did it because it was the right thing to do.
However, many on Twitter swelled with good, old-fashioned American pride at the sight of the Good Samaritan's gesture:



In the turbulent societal times that we live in, every now and then we get a reminder as to why true Americans love their country. The members of our military - both present and past - are perhaps our greatest reminder of all.
H/T: Fox 5 - Atlanta