Just a few weeks ago, Barbie was a Muslim woman. Now, in the eyes of some gay rights activists, Barbie is bisexual.
Shortly after Australians voted to legalize same-sex marriage, the "Barbie Style" Instagram page shared a photo of Barbie sitting on a bed next to another doll based of off gay rights supporter Aimee Song. Both of the dolls are wearing "love wins" shirts and the dolls appear to be very close: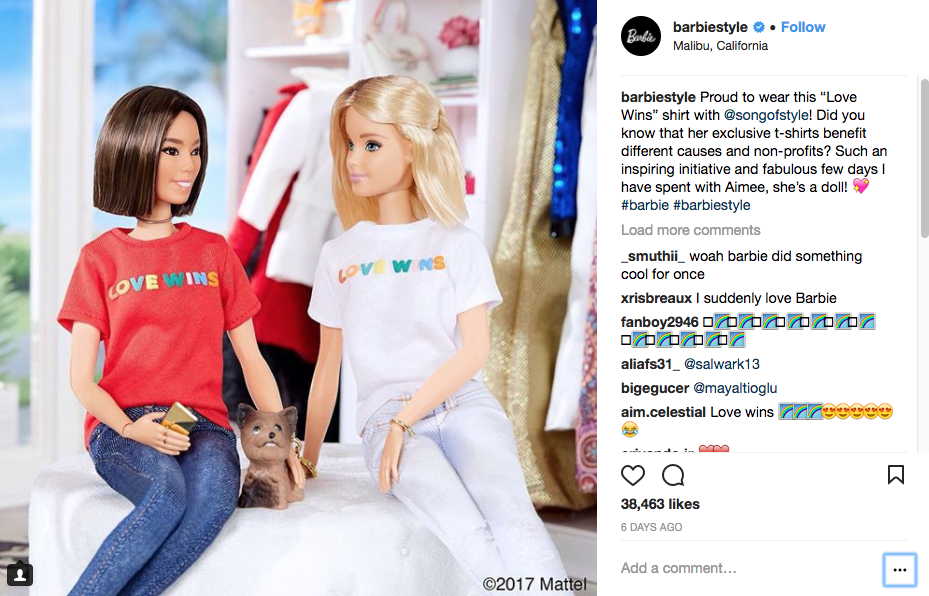 According to an analysis of the comments by LGBTQ Nation, the post caused speculation over whether Barbie is actually bisexual:
Commenters, of course, quickly took to the posts to express their love of the photos and insisting it was Barbie's big coming out as bisexual. Rainbow flag emojis reigned as users expressed their joy.

"YAAAS BARBIE YOU GO GIRL", one user wrote. "These shirts weren't the only thing to come out of Barbie's closet," another said.
However, as LGBTQ Nation notes, another user pointed out that photo doesn't definitively prove that Barbie is a lesbian:
Or maybe this Instagram commenter says it best. "The post doesn't even confirm that Barbie herself is a lesbian, or even bi. So all the butthurt homophobes can calm down. (Not like little girls haven't been making their dolls kiss for decades anyway)
PinkNews, another gay news site, applauded the pic by saying, "We're massive fans of LGBT-rights Barbie and you should be too."
The site did not speculate on Barbie's sexuality.
Song addressed the bisexuality controversy on her own Instagram, writing, "maybe we're secretly dating":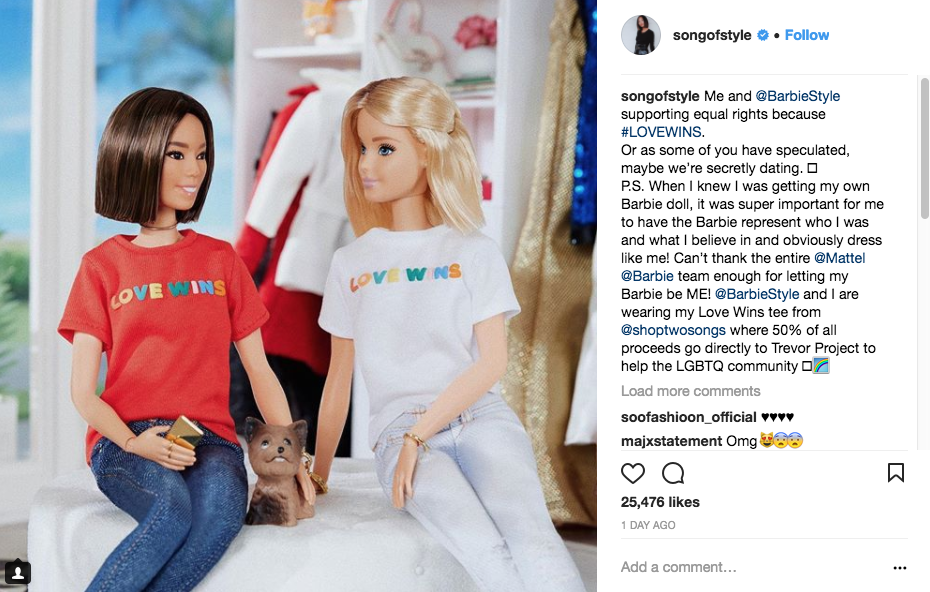 Thank you for supporting MRCTV! As a tax-deductible, charitable organization, we rely on the support of our readers to keep us running! Keep MRCTV going with your gift here!