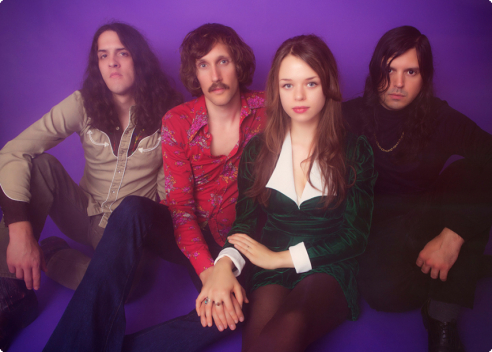 A record company has dropped one of its artists after two of the band's members expressed "ugly opinions" on the topics of immigration, feminism, and political correctness.
In a statement on Facebook, Castle Face Records announced they were dropping the band Dream Machine because members Matthew and Doris Melton made politically incorrect remarks while giving an interview with Still in Rock.
In the interview, Doris was explicitly asked to name something to "criticize about the music world" that she felt pissed her off.
Doris responded by criticizing "horrible feminist bands" and the entire "safe space mentality." She also said the feminist artists are "embarrassing themselves" by playing songs about how abortion is "'empowering'' and how they were allegedly "'sexually assaulted.'"
She continued, saying, "You see the longing for a gender supremacy under the guise of 'equal rights.' What happened to the incredible female singers from back in the day with real talent, singing about finding true love and wanting to be a good woman?"
Another point of contention for the record label happened to be the pair's views on immigration and, in particular, ICE.  Matthew and Doris were asked to react to artists who were reportedly threatened with deportation for playing unofficial shows at South by Southwest, a major music festival.
Matthew responded by saying deportation was "a fair and just consequence" for playing unauthorized shows, while Doris said, "ICE is just doing their job, and I'm glad they're finally starting to work on deporting criminal illegal aliens too."
Doris then mentioned being an immigrant who came to America legally from Bosnia.
"It took ages for me to get my green card here legally and because there's so many illegals coming in they make it hard for the people who do want to become part of American society the right way," she said. "They're handing out free money to people who come here illegally, but when you want to work hard to become an American citizen to start a family they make it so hard on you, and expensive!"
At the beginning of the interview, Doris even explicitly condemned American musicians for "getting increasingly politically correct."
The irony, however, was lost on Castle Face Records when they announced shortly after the interview they would be parting ways with Dream Machine over their "ugly" beliefs.
Matt Jones, the executive in charge of Castle Face Records, issued a statement, saying the label was dropping the band for their views:
We've recently been made aware of some ugly opinions Matthew and Doris Melton of Dream Machine gave in a recent interview in Still In Rock, as part of the promotion for their Castle Face LP that came out last month. Castle Face does not agree with the statements on ICE, immigration, feminism, and sexual assault and they are in no way representative of Castle Face or the other artists on the label. While we can't do much about this record that's just last month come out, or the 5 or so before it, we will not be working with them again.
Jones said he was personally "appalled" after sharing the interview on Facebook and stated he, along with John (Dwyer), have asked the band to issue a statement about the matter.
Dream Machine did, in fact, issue a statement responding to the incident:
First of all, we know in our hearts that we aren't racists or fascists and we fully denounce all forms of hatred and intolerance. I am a female immigrant from Bosnia and have immigrated twice, once as a refugee from Bosnia to the Netherlands and once to the United States. I made these comments because I felt I came from a position to do so as I am the things that most people seem to want to protect; a woman, an immigrant, a refugee and somebody who is a descendant of muslim grandparents as well as a great-grandfather who fought in the Yugoslavian Partisan army in the second world war. He killed approximately 100 nazi's and fought for the freedom and liberation of his country. In return, he was killed, as well as 4 out of his 6 children, leaving my great-grandmother alone and stranded. If there's one thing that we are absolutely not, it would be fascists, racists or anything of the sort.

[…]

We didn't wish to hurt anyone but we do believe rock music and punk music aren't safe and should stay that way. Punk was never about fitting in, it was about expressing differentiating views no matter what the cost is and I think the music scene has been overly active with left-wing politics, so much so that anyone disagreeing with them is immediately dropped from their label. […]
Thank you for supporting MRCTV! As a tax-deductible, charitable organization, we rely on the support of our readers to keep us running! Keep MRCTV going with your gift here!