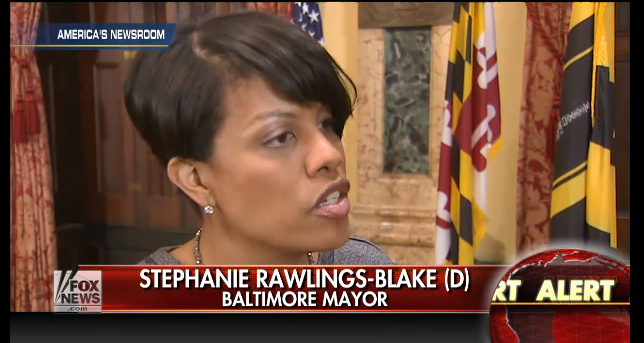 A senior law enforcement source reportedly told Fox News that Baltimore Mayor Stephanie Rawlings-Blake issued a direct order to her police chief to stand down as riots broke out Monday night. 
"Let them loot, it's only property," Rawlings-Blake said, according to a Fox News source.
When asked directly if the Baltimore mayor was the one who gave the stand-down order, the source said, "You are goddamn right it was."
Mayor Rawlings-Blake later denied the claim in an interview with Fox News' Bill Hemmer: 
"So there was no order to hold back?" Hemmer asked the mayor.
"No," she replied.
"But you have to understand, it's not holding back. It's responding appropriately."
"To those who would suggest you screwed this up, what would you say?" asked Hemmer.
"People have their own opinion," Rawlings-Blake responded.
If true, the claim offered by the Fox News' source will likely worsen the firestorm of criticism surrounding the mayor for her remarks at a news conference on Monday. When asked about the situation in Baltimore, Rawlings-Blake told reporters that she "gave those who wished to destroy [the] space to do that."
"While we tried to make sure that they were protected from the cars and the other things that were going on, we also gave those who wished to destroy space to do that as well," she said.
Giving rioters the space "to destroy" and possibly issuing a stand-down order to Baltimore Police raise the question whether the destruction to the city could have been prevented, if not significantly reduced.
Watch the Fox News report below for more.