Following the example of so-called "sanctuary state" California, the city of Baltimore plans to allocate taxpayer dollars to create a legal defense fund for illegal immigrants.
Baltimore's spending board is expected to approve $200,000 in funds to pay lawyers who will defend illegal immigrants facing deportation, reports The Baltimore Sun.  
"The head of the mayor Catherine Pugh's immigrant affairs office said the approval would allow the first lawyers to get work within weeks," writes the local newspaper. "The money is scheduled to go before a vote of the Board of Estimates. Half of it is in the form of a grant from the Vera Institute of Justice, a New York nonprofit, and the other half is from the city's coffers."
According to The Baltimore Sun, "The funding is part of a broader effort to help immigrants that city officials, charity leaders and advocates launched after the inauguration of Donald Trump as president."
The money approval comes amid confusion over the fate of those enrolled in the Deferred Action for Childhood Arrivals (DACA) program, which provides illegal immigrants who came into the country as children protection from deportation.
Congress has officially missed the Mar. 5 deadline to find a legal solution for DACA, leaving the 800,000 illegal immigrants or "Dreamers" enrolled in the program in limbo.
President Trump, when he decided to terminate the program, gave lawmakers six months to figure out a way to protect those enrolled from deportation.
The White House also offered a plan that would provide 1.8 million illegal immigrants who qualify for or receive benefits from DACA a path to citizenship, which ultimately Democrats in Congress rejected due to other provisions such as funding for a border wall. 
Trump tweeted on Tuesday, "President Obama had 8 years to fix this problem, and didn't. I am waiting for the Dems, they are running for the hills!"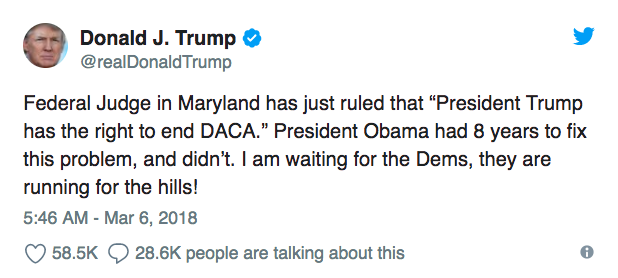 He taunted Democratic lawmakers in another tweet, slamming their inaction and asking, "Where are you?"
"A deal can be made!" he wrote.

While there were legal challenges that attempted to block Trump's decision to terminate the program, a federal judge in Maryland ruled on Tuesday that the President had the "reasonable" justification to end DACA given the program was likely unlawful.
(Cover Photo: Flickr / Karen Neoh)
Thank you for supporting MRCTV! As a tax-deductible, charitable organization, we rely on the support of our readers to keep us running! Keep MRCTV going with your gift here!