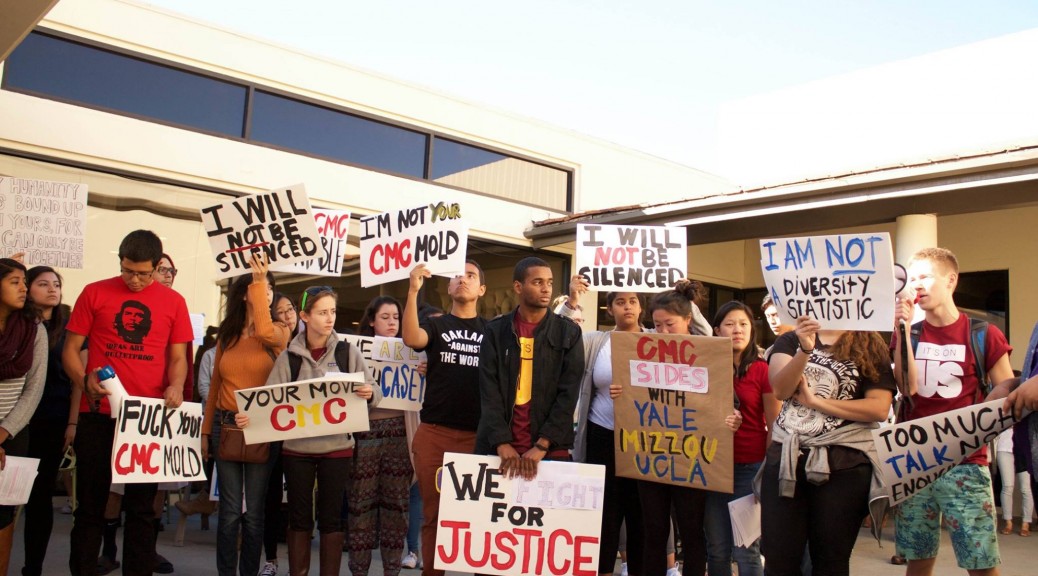 If the racial craziness happening on college campuses throughout America has gotten you down, relax - there is hope. 
Claremont McKenna College (CMC) in California - like Yale, and Missouri and others schools across the nation - faced racial protests this week. Similar to Missouri, where the school president and chancellor were forced out of their jobs, at Claremont McKenna College an administrator was pushed out of her job. What makes this school different is that the editorial board of the liberal arts school's student newspaper, The Claremont Independent, took a public stance against the politically correct over-reactions by students and school administrators.  
Assistant Vice President and Dean of Students Mary Spellman was forced to step down Thursday after she became the object of protests and a student hunger strike because of a poorly-worded but well-intentioned email deemed by some to be evidence that Spellman was a bigot.
Spellman wrote to a student, Lisette Espinosa, after reading Espinosa's article in The Student Life about her frustrations as a minority on campus.

"We have a lot to do as a college and a community. Would you be willing to talk to me about these issues?" Spellman wrote in her email. "They are important to me and the DOS staff and we are working on how we can better serve students, especially those that don't fit our CMC mold."

Those last words—"CMC mold"—kickstarted a campaign to force Spellman out.
At the same, the protests against the dean were happening, the junior class president Kris Brackmann (the one kneeling holding up the "sorry" sign) was being forced out of her position because she appeared in what some claimed was a racially insensitive Halloween picture.  After another student posted the picture on Tumbler, Brackmann was branded and pushed out.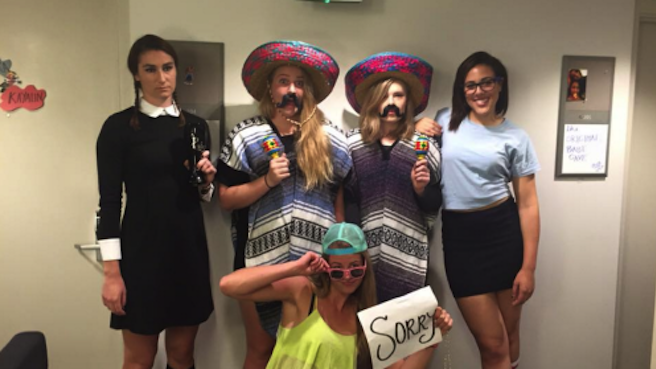 On Friday day after Dean Spellman's resignation, the school paper published a powerful editorial  titled "We Dissent," that displayed a better understanding of the PC madness infecting their school than was displayed by the adults who supposedly run the college.
The editorial expressed disappointment in the handling of the protests, and the lack of backbone by the students and administration who capitulated instead of standing up to the protesters' demands. 
First, former Dean Mary Spellman. We are sorry that your career had to end this way, as the email in contention was a clear case of good intentions being overlooked because of poor phrasing. However, we are disappointed in you as well. We are disappointed that you allowed a group of angry students to bully you into resignation. We are disappointed that you taught Claremont students that reacting with emotion and anger will force the administration to act. We are disappointed that when two students chose to go on a hunger strike until you resigned, you didn't simply say, "so what?" If they want to starve themselves, that's fine—you don't owe them your job. We are disappointed that you and President Chodosh put up with students yelling and swearing at you for an hour. You could have made this a productive dialogue, but instead you humored the students and allowed them to get caught up in the furor.

(...) President Chodosh. We were disappointed to see you idly stand by and watch students berate, curse at, and attack Dean Spellman for being a "racist." For someone who preaches about "leadership" and "personal and social responsibility," your actions are particularly disappointing. 
The editorial went on to scold the student body president Will Su, who called for the resignation of the junior class president without consulting the student body in general. They also took on their full student body for the movement to oust Dean Spellman and for what they suggested were childish actions of screaming and cursing at the administrators, and for some their demands. 
We are disappointed that you chose to scream and swear at your administrators. That is not how adults solve problems, and your behavior reflects poorly on all of us here in Claremont. We are disappointed in your demands. If you want to take a class in "ethnic, racial, and sexuality theory," feel free to take one, but don't force such an ideologically driven course on all CMC students. If the dearth of such courses at CMC bothers you, maybe you should have chosen a different school. If students chose to attend Caltech and then complained about the lack of literature classes, that's on them. 
The editorial also raged against the protesting students who tried to quash fellow students' dissenting opinions and the call for "safe spaces" areas of protest where no one is allowed to disagree with what the protesters are saying.
We come here to learn about views that differ from our own, and if we aren't made to feel uncomfortable by these ideas, then perhaps we aren't venturing far enough outside of our comfort zone. We would be doing ourselves a disservice to ignore viewpoints solely on the grounds that they may make us uncomfortable, and we would not be preparing ourselves to cope well with adversity in the future. Dealing with ideas that make us uncomfortable is an important part of growing as students and as people, and your ideas will inhibit opportunities for that growth.
The editorial ends with a powerful message, "We are no longer afraid to be voices of dissent."
Reading the full editorial, I was struck by the wisdom of the student editorial board. They wrote a piece reacting to incidents on campus which turned out to be much more universal - it is a treatise on the politically correct madness that has enveloped American society.
The video below shows an incident in which students protesting for a racially segregated "safe space" for "marginalized identities" silenced and embarrassed an Asian student when she described how she had been racially harassed by an African-American man.