"Creepy porn lawyer" Michael Avenatti has locked his Twitter account after claiming a third Kavanaugh accuser would come forward within the next 36 hours, and now is denying internet rumors he was "duped" by a hoax.
Avenatti, who famously represented porn star Stormy Daniels in her media-fueled battle against President Trump, bullied his way back into the spotlight this week after accusing Supreme Court nominee Brett Kavanaugh of running a gang rape ring in high school and claimed to have found hidden clues about sexual assault in the SCOTUS pick's old yearbook entries. The claims have been so outlandish that even congressional Democrats, who've been all too happy to demonize Kavanaugh as an attempted rapist, have hesitated to comment on them.
On Tuesday, the internet lit up with rumors that this mysterious third woman was actually an internet troll who duped Avenatti into peddling wild conspiracy theories on a national platform. The story started making the rounds right around the same time Avenatti inexplicably set his Twitter account to "private."
From behind his "private" Twitter wall, Avenatti is denying the claims.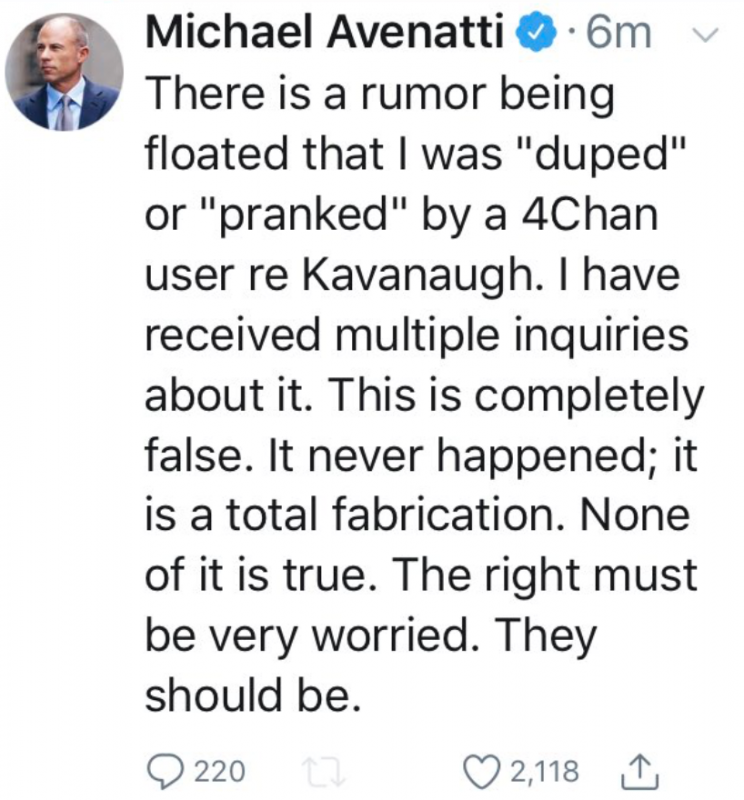 Avenatti has said he expects his latest "client," an unnamed woman who Avenatti says will "literally risk her life" for the truth, to come forward within the next 36 hours to level new sexual abuse allegations against Kavanaugh, who's already been accused of assaulting a woman in high school and exposing himself to another in college.
Kavanaugh has denied the allegations, which so far lack any evidence.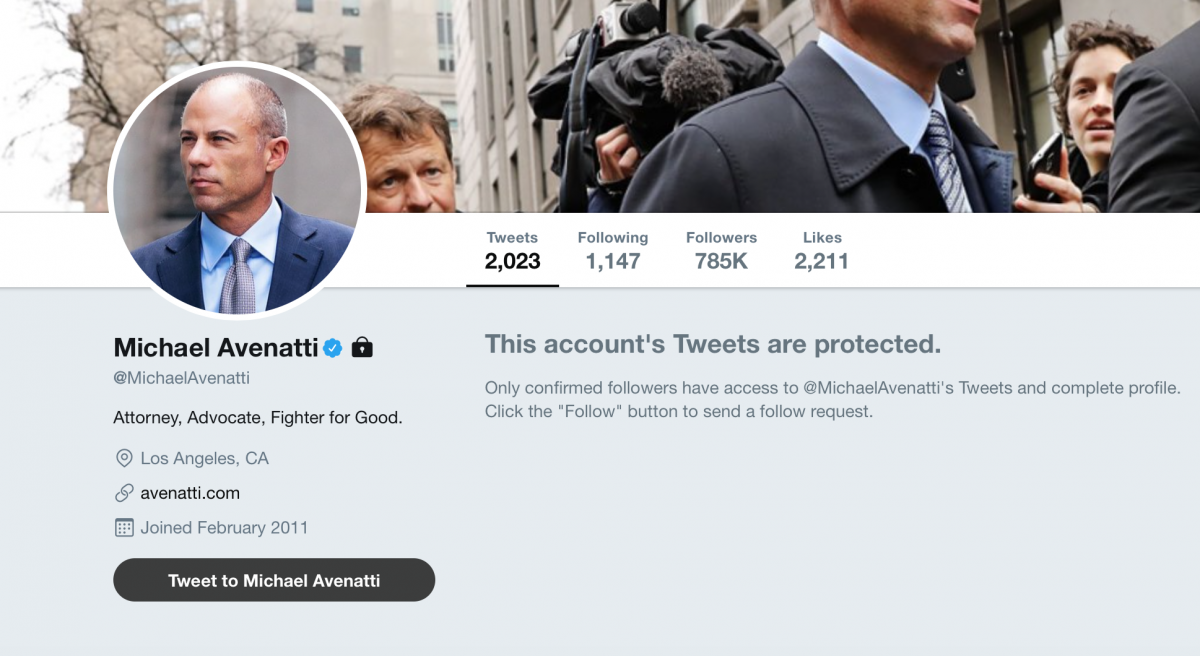 A post on Reddit detailed an elaborate story appearing to show how Avenatti got duped by someone pretending to have been victimized by Kavanaugh and his alleged rape circle.
While Twitter users were hesitant to just buy the story flat-out, many have made the good point that Avenatti was still making his "unnamed client" claims on the media circuit as of Tuesday morning. But after the 4chan rumor broke online, he suddenly locked his Twitter account.
 
Seeing rumors that Avenatti got pranked by 4chan, but cautious about going on 4chan on my work computer.... pic.twitter.com/98BwbqMptc

— Adam Shaw (@AdamShawNY) September 25, 2018
I've never wanted something in my whole life to be true as much as I want Avenatti getting 4Chan pranked to be true.

— Stephen Miller (@redsteeze) September 25, 2018
If Avenatti actually got pranked by 4Chan, my entire year has been madehttps://t.co/ZNwADUaCQJ pic.twitter.com/4gku9vtZ82

— Caleb Hull (@CalebJHull) September 25, 2018
Rumors are beginning to swirl that it was a 4chan hoax on Avenatti.

— Minapo (@peko3417) September 25, 2018
Avenatti getting trolled into making himself look like a fool by 4chan is your feel good story of the day, month and year.

— J. Shaka (@jjshaka) September 25, 2018
Did 4chan troll Avenatti?

— Ryan Van Sickle (@Ryan_VanSickle) September 25, 2018
Considering Avenatti's allegations I'm kinda inclined to believe it was a 4chan prank due to their absurdity.

— Good Tweetman (@Goodtweet_man) September 25, 2018
So... if Avenatti did get punked by 4chan, that should be the end of his presidential ambitions and media outlets that still have him on to comment on anything are not serious organizations worthy of respect.

— RBe (@RBPundit) September 25, 2018
Holy WOW if this is true!!! https://t.co/yFE6GAuVPH

— Brandon Morse (@TheBrandonMorse) September 25, 2018
Of course, Free Beacon Sports Editor Alex Griswold rightly pointed out that internet rumors deserve a fair amount of skepticism.
 
The 4chan poster claiming he pranked Avenatti also included a gif supposedly proving that Michelle Obama is secretly a man, so maybe pump the brakes?

— Alex Griswold (@HashtagGriswold) September 25, 2018
By the end of tomorrow, we should have a much better idea of where all this is headed.