In a historic and controversial move, the majority of Australian citizens voted in favor of gay marriage, with final percentages showing 61.6 percent of citizens voting "yes" and 38.4 percent voting "no."
The controversy wasn't in the vote itself, but rather the reasoning and financial backing behind it.
The New York Times reported that while the vote was not binding, it paved the way for the Australian Parliament to enact laws that would recognize gay and lesbian unions. A total of 12.7 million citizens participated in the vote, with 79.5 percent of them sending in postal ballots,
Proponents of same-sex marriage in Australia accepted the outcome with mixed feelings.
As expected, some Australians praised the vote as a victory. Curtis Lewis, 60, exclaimed, "This is our proudest moment as gay and lesbian Australians. Finally I can be proud of my country."
Annika Lowry, 42, said she brought her 4-year old daughter to celebrate, saying, "It was not just about us, it's for our kids, so that they know equality is important."
However, many Australians on both sides of the ideological fence expressed their disdain for the postal ballot vote. Many begrudged that the process cost $122 million ($97 million USD) in taxpayer dollars. 
One Australian commentator and proponent of gay marriage had this to say: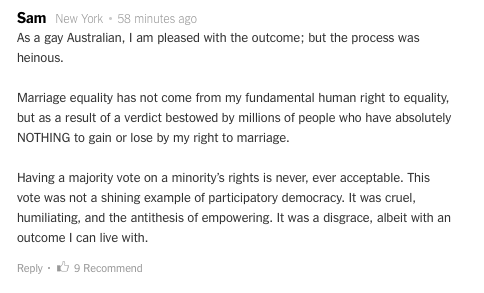 Lyle Shelton, an Australian Christian lobbyist and outspoken opponent of gay marriage, stated his concerns about the vote and referred to controversies in the United States:
The 'yes' side should make good on its promise that no one else's freedoms would be affected. They've maintained this all along. They've said that our concerns about freedom of speech and freedom of religion are red herrings. We're worried about bakers and florists being taken to court, as has occurred in the United States.
Australian Prime Minister Malcolm Turnbull also took a lot of flack for his role in the process, especially after tweeting this:
People responded in kind: