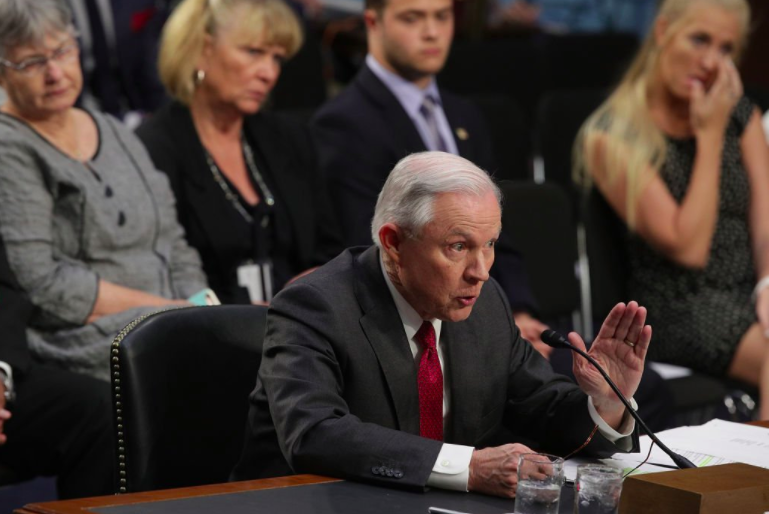 During his testimony before the Senate Intelligence Committee on Tuesday, Attorney General Jeff Sessions said that his letter recommending the dismissal of former FBI director James Comey did not violate his recusal.
Sessions was asked what involvement he had in the Russia probe before his recusal and why he felt it was appropriate to recommend Comey's firing when Comey was leading that investigation.
The former Alabama senator said that he had taken "no action" in the Russia investigation at the time of his recusal and that he currently has "no knowledge of this investigation … beyond what has been publicly reported."
He explained that he chose to recuse himself from the Department of Justice's investigation of Russia because he was involved in President Trump's campaign and did not want any conflict of interest, "not because of any asserted wrongdoing or any belief that I was involved in any wrongdoing during my involvement in the campaign."
He said that Trump had asked for his and Deputy Attorney General Rod Rosenstein's opinion on Comey and for them to put it in writing.
Sessions argued that it was not a violation of his recusal because he was not directly involved in the Russia investigation in the first place, that his decision did not involve the investigation, and that he had gone to extensive lengths to be excluded from any information or briefing about the investigation since his recusal.
He said that it was in his view and that of Deputy Attorney General Rosenstein's that "a fresh start" at the FBI "was appropriate," based upon Comey's handling of the Hillary Clinton email investigation. 
"I'm the Attorney General of the United States," said Sessions. "It's my responsibility... to ensure that that department is run properly. I have to make difficult decisions. I do not believe that it is a sound position to say if you are recused from a specific case ... you can't make a decision about the leadership of that agency." 
Thank you for supporting MRCTV! As a tax-deductible, charitable organization, we rely on the support of our readers to keep us running! Keep MRCTV going with your gift here!