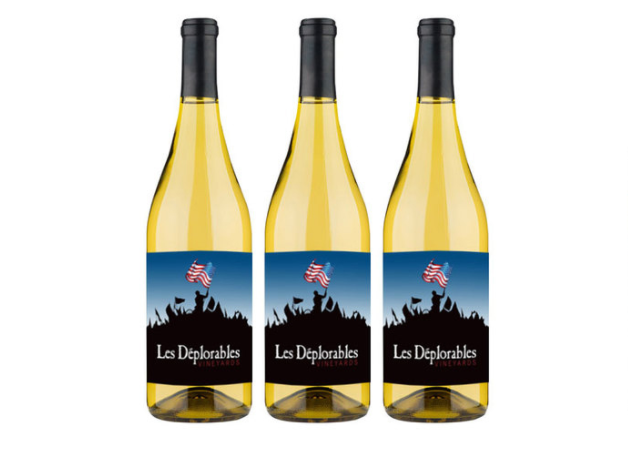 (Image via The Daily Caller Wine)
Wine tailored to the "basket of deplorables" who voted for President Trump is now officially on the market.  
The Daily Caller recently announced that it is selling a new line of wine, "Les Deplorables," created with the purpose of commemorating Trump and his supporters' victory on Election Day. 
"Buy for yourself to celebrate your victory with emphasis," the product description reads. "Or give as a gift to your favorite fellow Deplorable. Even better, send some as a cheeky gift to your progressive friends who you know will just love it."
The line includes a 2014 chardonnay and a 2014 cabernet sauvignon, both made in the U.S.A.
Both the wines are $15, sold through the conservative news website's subscriber-based "Daily Caller Wine" program. 
The Daily Caller says that the proceeds will go toward "fighting liberal bias in media."
Hillary Clinton during her 2016 presidential campaign labeled half of Trump's supporters as "deplorables," meaning racist, sexist, xenophobic, or homophobic.
Clinton did apologize, but only for the way she phrased her message – meaning including the word "half."
Trump repeatedly criticized Clinton for insulting his supporters and adopted the phrase as a weapon for his campaign.   
Thank you for supporting MRCTV! As a tax-deductible, charitable organization, we rely on the support of our readers to keep us running! Keep MRCTV going with your gift here!