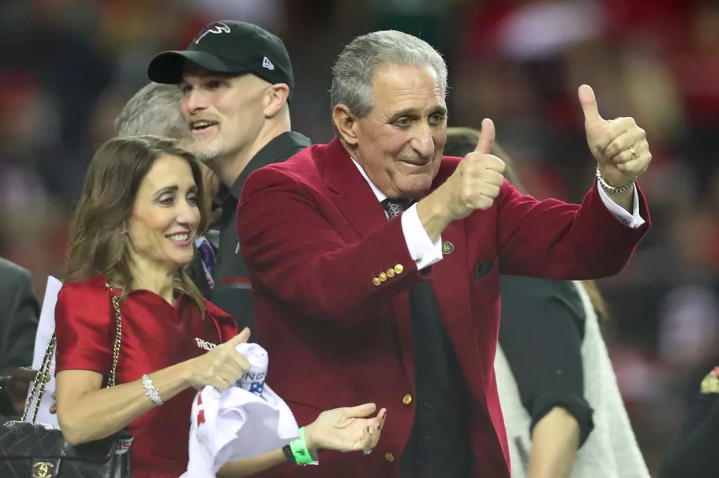 (Image via Twitter)
Atlanta Falcons owner Arthur Blank is personally shelling out for every team employee to go to the Super Bowl.
Yes, everyone.
The news, shared via Twitter by Atlanta Constitution-Journal's Jeff Schultz, followed the Falcons' big win against the Green Bay Packers in the AFC Championship last Sunday.
Now that's how you celebrate a conference win! 
According to SB Nation, there are 269 employees on the Falcons staff, not including football operations staff or executives.
Following the AFC Championship game, the cheapest tickets to Super Bowl LI were $3,676. To take all 269 employees to the big game, it comes out to approximately $988, 844 - not including travel arrangements.  
The steep price shouldn't be an issue. Blank, co-founder of Home Depot, has a net worth of about $3 billion.
The Falcons are heading to the Super Bowl for the first time in 18 years, facing off against the New England Patriots in Houston on Sunday, Feb. 5.
Thank you for supporting MRCTV! As a tax-deductible, charitable organization, we rely on the support of our readers to keep us running! Keep MRCTV going with your gift here!
MRCTV Reader,
The liberal media are terrified of the truth, especially when it leads to uncomfortable questions about their own leftist worldview.
MRCTV is the multimedia division of MRC featuring original content and aggregated videos of the news, people, and events conservatives care about.
MRCTV relies on the support of our loyal readers (and video viewers) to keep providing the news and commentary that matter to the American people, not just stories that prop up the liberal agenda.
Make a donation today. Just $15 a month would make a tremendous impact and enable us to keeping shining the light where the liberal media are afraid to tread.
— The MRCTV Team
DONATE
Connect
Sign up for our MRCTV newsletter to receive the latest news.
Sponsored Links