While the WikiLeaks founder Julian Assange's much-anticipated release of information about Democratic presidential nominee Hillary Clinton went out with a whimper, another piece of information has surfaced that has Clinton's campaign manager, Robby Mook, reluctant to respond.
On Sunday, TruePundit.com released a series of cables that allegedly show the former secretary of state asking members of the State Department whether they could use a drone strike on Assange to silence his then impending release of information known as "Cablegate." WikiLeaks later shared the cables on Twitter on Monday: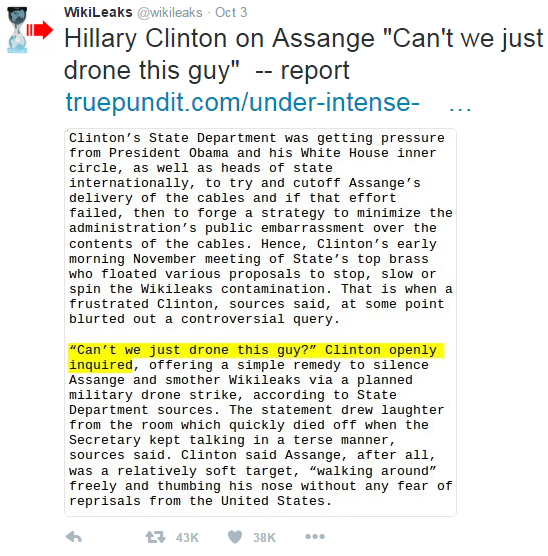 As seen above, Clinton was under intense scrutiny from the White House and other world leaders to come up with a solution to the Assange problem.
Ronica Cleary of Fox 5 in Washington D.C. asked Mook about the supposed comment by the Democratic nominee for president. Mook declined to comment on the situation calling them "conspiracy theories." He deflected from the question and went into a promo for his boss.
Whether the alleged comment by Clinton about Assange is true is anyone's guess, but the people deserve the right to make up their own minds. That begins with truthfully answering the tough questions no matter which side of the aisle you're on.
Thank you for supporting MRCTV! As a tax-deductible, charitable organization, we rely on the support of our readers to keep us running! Straight from Founder and President, Brent Bozell, please read the MRC request for support here to see how you can join the movement!