Fresh off a new round of accusing Donald Trump of running "concentration camps" for illegal aliens at the southern U.S. border, New York Rep. Alexandria Ocasio-Cortez shared previously unpublished photos of herself touring a border detention facility last year, when she was still campaigning for office.
And needless to say, it didn't go over so well on social media.
"I'll never forget this, because it was the moment I saw with my own eyes that the America I love was becoming a nation that steals refugee children from their parents & caged them," the Democratic socialist tweeted, along with shared photos reportedly taken by writer/photographer Ivan Pierre Aguirre.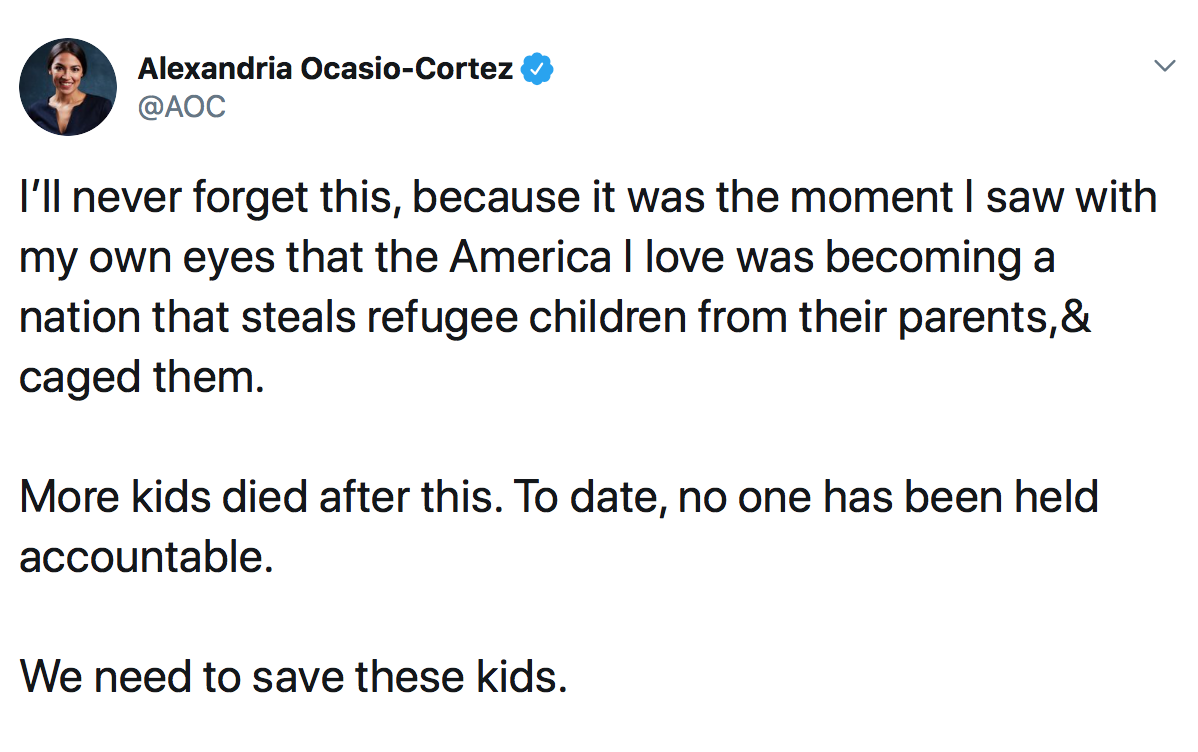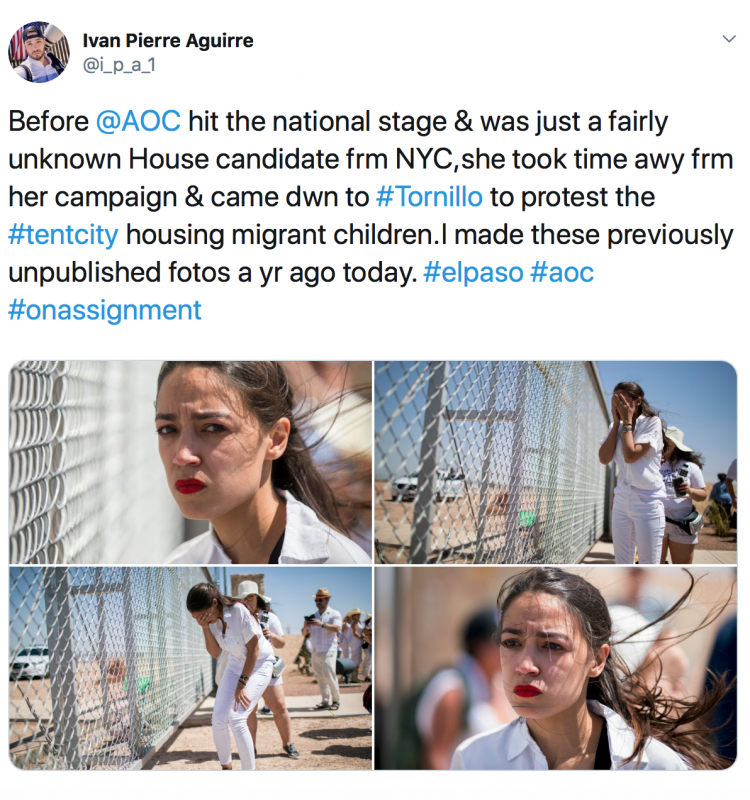 In one of the photos, a solemn-faced Ocasio-Cortez can be seen gazing woefully into the camera, while others show the freshman congresswoman burying her head in her hands in alleged grief. While the pictures were clearly meant to portray her supposed empathy toward the plight of migrant kids, many on Twitter weren't impressed with how…well, painfully staged they look.
 
The photo shoot for internment camp, by Dior.

— Mattphilbin (@Mattphilbin) June 25, 2019
Yeah when I leave the house I'm wearing a sack and have scrubbed my face with shards of glass, just in case I encounter something sad and look too nice

— Renée Stephen (@ReneeStephen) June 25, 2019
I love AOC but these images feel so staged, it undermines her credibility on these issues. This crisis is not about " striking" photos of a Congresswoman, it is about DYING CHILDREN.

— Momo (@Momeaux) June 25, 2019
Rubish propaganda - wtf is this lmao

— Nobu Warwick (@namastenobu) June 25, 2019
Some were quick to point out that while the glamour shots of the 29-year-old lawmaker were front-and-center, none of the photos show the alleged horror the migrant children are facing that caused her so much angst.
 
These images capture not a damn thing about this children. This is an embarrassment and offensive.

— Momo (@Momeaux) June 25, 2019
All I see is a fence.......and lots of drama......!!!

— J. Darrin Smith (@jdarrinsmith) June 25, 2019

Ocasio-Cortez has caught quite a bit of criticism (and, astoundingly, a fair amount of praise) over the past week for comparing overcrowded border detention facilities to "concentration camps" like those used by the Nazis to intern and torture Jews during the Holocaust.
Even still, the congresswoman has continued to push back against increased funding for ICE and Customs and Border Protection to address the humanitarian crisis, while turning down multiple invitations to tour actual concentration camps.