Socialist Rep. Alexandria Ocasio-Cortez is making some very bold claims on Twitter against U.S. Customs and Border Protection (CBP) on Monday, initially based on an article by left-of-center media outlet.
Ocasio-Cortez cited an article published on Monday by ProPublica that states that there's a "secret border patrol Facebook group where agents joke about migrant deaths and post sexist memes."
Here's Ocasio-Cortez's claim on Twitter: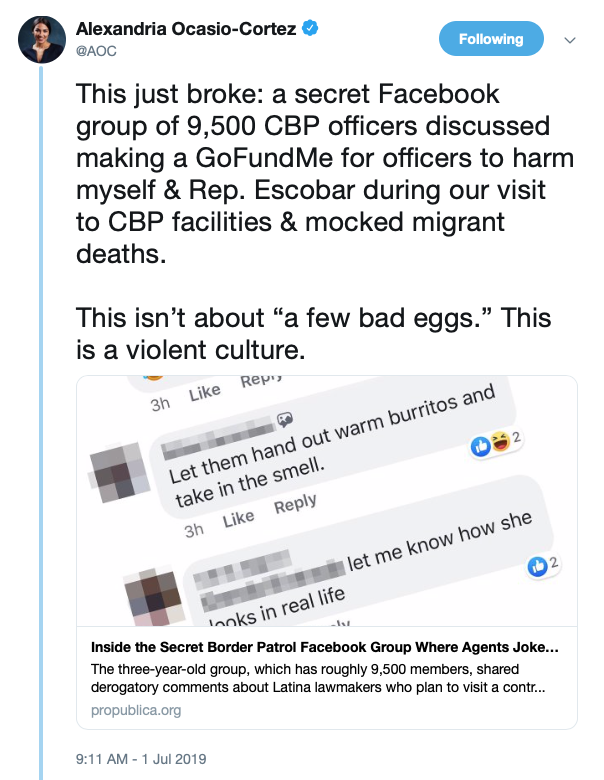 Ocasio-Cortez framed the article as stating that the group is comprised of "9,500 CBP officers." However, while the article states that the Facebook group in question has "roughly 9,500 members" — some of which could allegedly be current or former CBP agents — there was no breakdown of exactly how many of the members were either current or former CBP agents or non-law enforcement related members.
Ocasio-Cortez seemingly took the "9,500" number and ran with it, because she took that made the distinction that "almost HALF" of the 20,000 CBP agents are apart of this questionable group: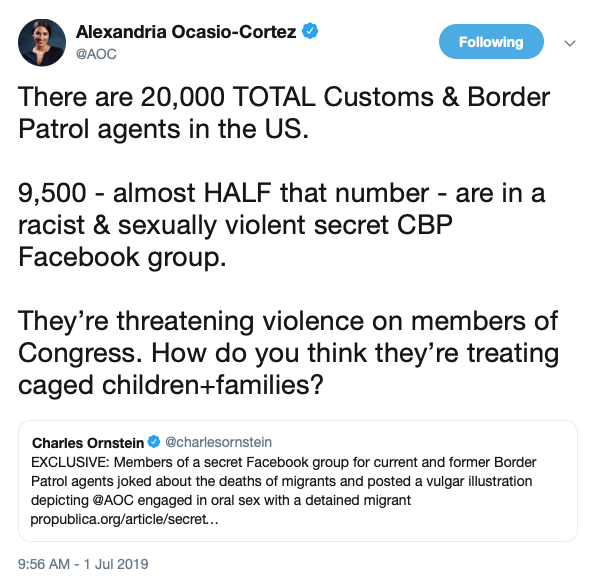 The Facebook group in question is called "10-15," which is apparently "Border Patrol code for 'aliens in custody.'"
It's interesting to note that there's no link provided in the ProPublica article to any Facebook page related to the one in question. An argument could be made that the group is of the "secret" variety - apparently, outside sources provided the incriminating material.
ProPublica made the following claim about the substance of the article in question:
ProPublica received images of several recent discussions in the 10-15 Facebook group and was able to link the participants in those online conversations to apparently legitimate Facebook profiles belonging to Border Patrol agents, including a supervisor based in El Paso, Texas, and an agent in Eagle Pass, Texas. ProPublica has so far been unable to reach the group members who made the postings.

ProPublica contacted three spokespeople for CBP in regard to the Facebook group and provided the names of three agents who appear to have participated in the online chats. CBP hasn't yet responded.
Between the ProPublica article and Ocasio-Cortez's incessant tweeting, the CBP issued a statement Monday afternoon on "Private Facebook Group Activity."
"These posts are completely inappropriate and contrary to the honor and integrity I see—and expect—from our agents day in and day out," U.S. Border Patrol Chief Carla Provost said in the statement. "Any employees found to have violated our standards of conduct will be held accountable."
In a subsequent tweet, Ocasio-Cortez sent out another message making the claim that "9,500 CBP officers" are "sharing memes about dead migrants and discussing violence and sexual misconduct towards members of Congress."
Take a look: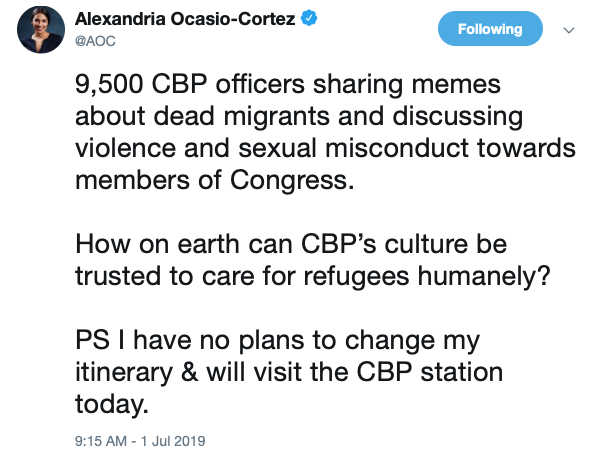 Ocasio-Cortez also, according to her Twitter posts, visited a CBP facility that supposedly houses illegal aliens, and the freshman congresswoman made even more inflammatory claims.
Here are those tweets: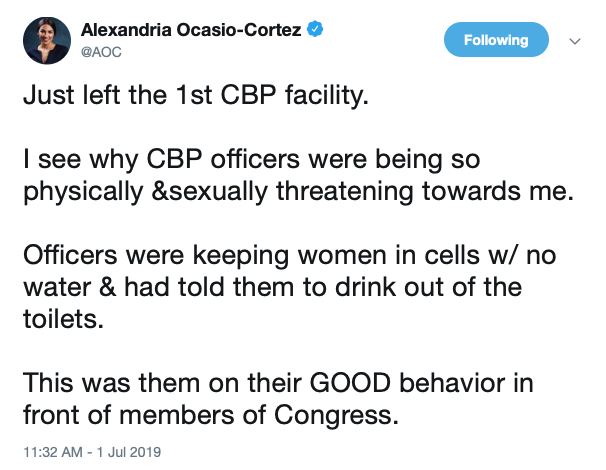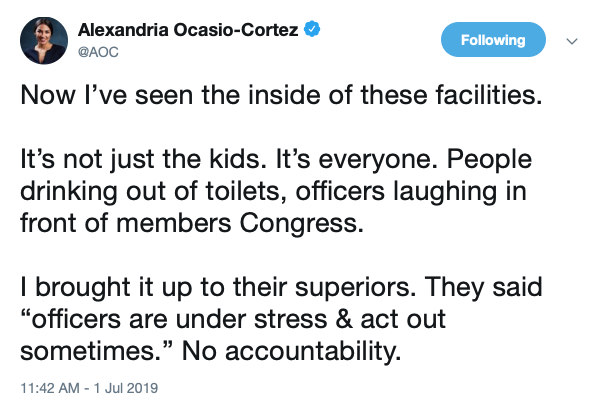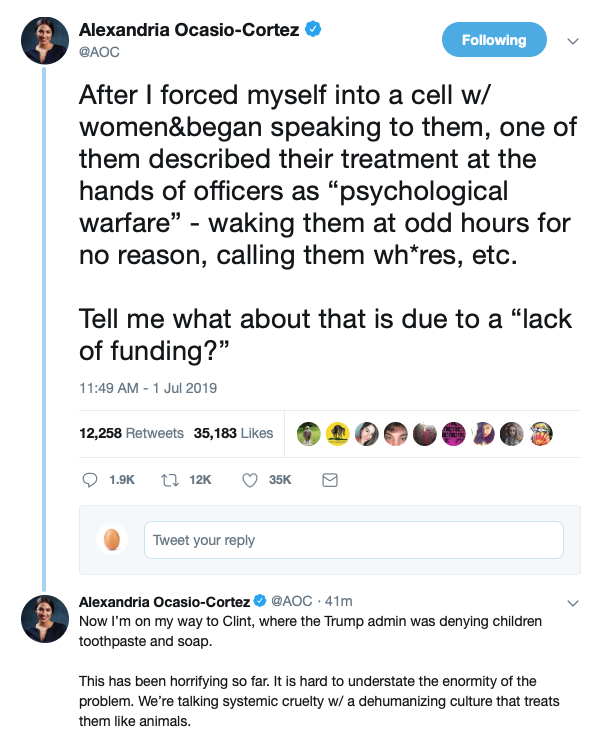 For someone who likes to take pictures, Ocasio-Cortez hasn't accompanied her claims with any photographic evidence as of yet, although it is believed photo and video may have not been allowed inside the facility.
I'm not saying her claims aren't true, but no one can say that Ocasio-Cortez's claims are 100 percent true — at least not at the moment.