Talk about being tone deaf. We know a large portion of politicians care nothing for the people, but this is ridiculous. They talk and talk and talk, pushing their agendas and narratives, all the while neglecting the people that got them to where the positions they enjoy. They never let a crisis go to waste, and their want for more power is becoming very apparent.
In her own typical fashion, socialist Rep. Alexandria Ocasio-Cortez (D-N.Y.) sent out a Monday tweet about the oil crash that saw prices per barrel drop below zero for the first time in history. Ocasio-Cortez praised the crash, seeing it as an opportunity to push her want for "green infrastructure."
Here's the freshman congresswoman's tweet, which she has since deleted: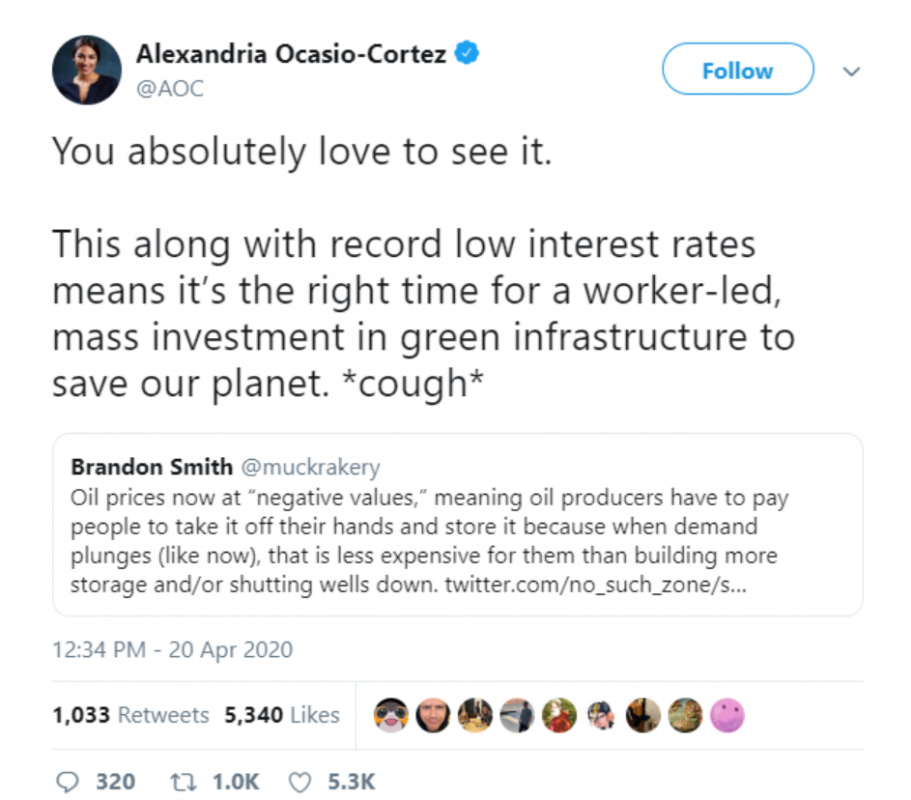 As noted above, Ocasio-Cortez deleted the tweet after getting called out for basically dancing on the loss of jobs that will almost certainly come with such a price crash. The tweet was especially in poor taste when you take into account all of the jobs that have already been lost during the COVID-19 pandemic. But since the internet is pretty much forever, plenty of people saved screenshots of her football-spiking tweet.
In true socialist form, however, instead of owning up to the now-deleted tweet, Ocasio-Cortez sent out another tweet. This time she neglected to mention the oil price crash in favor of simply pushing for her oft-maligned Green New Deal, saying that it will create "millions of jobs."
Now is the time to create millions of good jobs building out the infrastructure and clean energy necessary to save our planet for future generations.

For our economy, our planet, and our future, we need a #GreenNewDeal.

— Alexandria Ocasio-Cortez (@AOC) April 20, 2020
Spoken like a true politician - no shame in their game whatsoever.
H/T: Daily Caller