When trying to take a jab at your opponent, it's important to remember to aim.
That's a step Democratic N.Y. Rep Alexandria Ocasio-Cortez apparently forgot Thursday in her effort to snarkily respond to her "GOP" haters over this photo, showing Kentucky Rep. John Yarmuth posing with a cardboard cutout of her likeness:
AOC immediately took to Twitter to accuse Republicans of sexism, saying they "pose [their] older male members next to cardboard cutouts of young female legislators."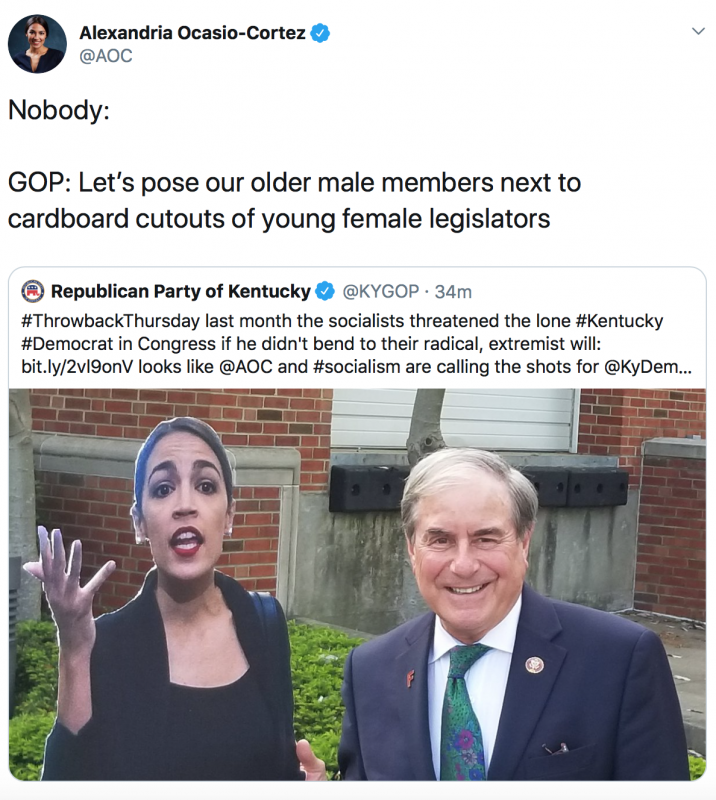 There's just one problem: Yarmuth? The guy in the photo? 
He's a Democrat. In fact, he's the only Democrat congressman in Kentucky, and serves in the same legislative body as AOC.
Even more hilariously, here's the Republican Party of Kentucky's original tweet that AOC apparently didn't bother to read before labeling it sexist, which actually states verbatim that Yarmuth is – again – a Democrat.
 
#ThrowbackThursday last month the socialists threatened the lone #Kentucky #Democrat in Congress if he didn't bend to their radical, extremist will: https://t.co/MdS3un7IIY looks like @AOC and #socialism are calling the shots for @KyDems now! pic.twitter.com/VIe6JWZZQy

— Republican Party of Kentucky (@KYGOP) April 25, 2019

After getting called out on Twitter for immediately assuming the older man in the photo was a Republican simply because he's older and male, AOC quickly deleted her tweet.
Unfortunately for the social media-obsessed congresswoman, the Internet is forever. As is, apparently, her embarrassing ignorance.
MRCTV Reader,
The liberal media are terrified of the truth, especially when it leads to uncomfortable questions about their own leftist worldview.
MRCTV is the multimedia division of MRC featuring original content and aggregated videos of the news, people, and events conservatives care about.
MRCTV relies on the support of our loyal readers (and video viewers) to keep providing the news and commentary that matter to the American people, not just stories that prop up the liberal agenda.
Make a donation today. Just $15 a month would make a tremendous impact and enable us to keeping shining the light where the liberal media are afraid to tread.
— The MRCTV Team
DONATE
Connect
Sign up for our MRCTV newsletter to receive the latest news.
Sponsored Links