Videos posted on social media Saturday show a snow barrier built by protesters outside of the Seattle Police Department's East Precinct.
In one Instagram video, a police vehicle is seen going backwards after failing to be able to go over the snow barrier and exit the precinct.
Standwithseattlepd posted a video saying, "Antifa goons blocked the exit of the East Precinct with a pile of snow tonight, in an effort to stop vehicles from responding to emergency calls. Real bright!" 
Reporter Andy Ngo posted a video showing the protesters cheering when the police vehicle cannot pull out of the station. 
Overnight, #antifa in Seattle gathered to pile snow on one of the driveways of the Seattle Police east precinct (where CHAZ used to be). They stopped police from being able to drive out to respond to calls during the snow storm. pic.twitter.com/6I3drgphvv

— Andy Ngô (@MrAndyNgo) February 14, 2021
Seattleblmflowerfairy also posted a video on Instagram of demonstrators harassing police who came out to remove the snow.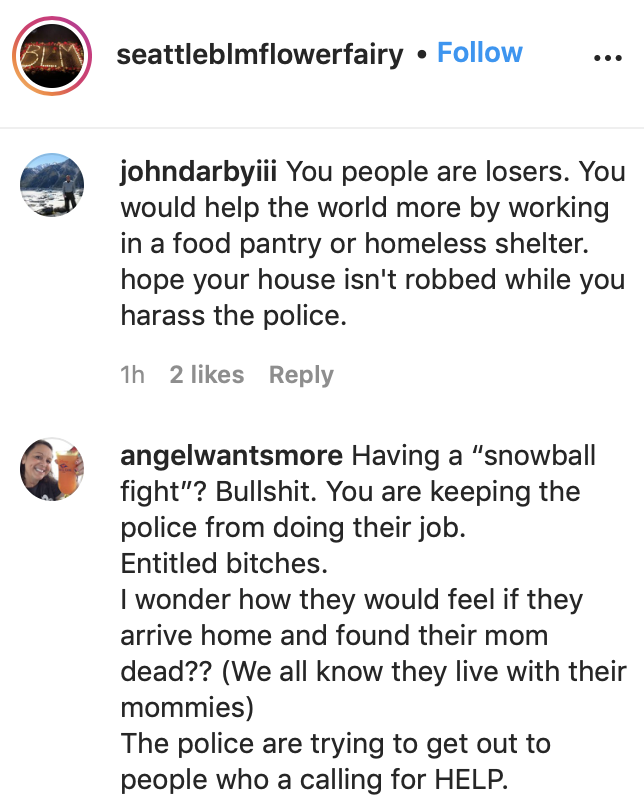 Not all on social media were amused. 
"You people are losers. You would help the world more by working in a food pantry or homeless shelter. hope your house isn't robbed while you harass the police," one comment said.
"Having a 'snowball fight'? Bullshit. You are keeping the police from doing their job. 
Entitled bitches," said another.
H/T Fox News