Antifa showed up at yet another college campus, and yet again the radical group showed why they're the real fascists.
The pro-Trump group Unite America First recently posted a video to their YouTube channel of an incident that happened on Sunday involving the remembrance of individuals who have been killed by illegal immigrants and Antifa's subsequent disgust at anything associated with American justice.
Unite America First leader Will Johnson and a few others were at Arizona State University taping informational fliers and pictures of people who were killed by illegal immigrants, like Kate Steinle.  
Steinle was murdered in July 2015 by five-time deportee Jose Inez Garcia Zarate — also known by his alias of Juan Francisco Lopez-Sanchez. Zarate was acquitted of all murder and manslaughter charges.
Just as Unite America First were posting the fliers, hate group Antifa showed up and decided to ruin the occasion. Antifascist Action Phoenix members confronted Unite America First members, ripped down some of the fliers and then proceeded to attempt to intimidate those who were merely posting the fliers.
Here's video of the altercation (WARNING: Some strong language, Incident begins around the 23-minute mark):
As you can clearly see, the "anti-fascists" use as many fascist tactics as they can to shut down opinions and speech that they don't agree with. The member of Unite America First weren't having any of Antifa's garbage.
"You're the Nazi," one man said after an Antifa member called the Unite America First members the same name. "You're racist! You're a racist Communist! Look at you! You don't even know what you're supporting!"
The funny thing is, the Unite America First member could be both right and wrong. They could be right in the sense that Antifa members don't seem intelligent enough to know that they practice what they preach against. They're wrong in the sense that it seems some of these Antifa members openly and honestly practice evil hatred of anything that is outside of their comfort zone — which is limited at best.
Antifascist Action Phoenix posted pictures with disgusting and self-promoting hashtags like #runpigrun to both Twitter and Instagram.
Here are the hate group's posts (WARNING: Some strong language):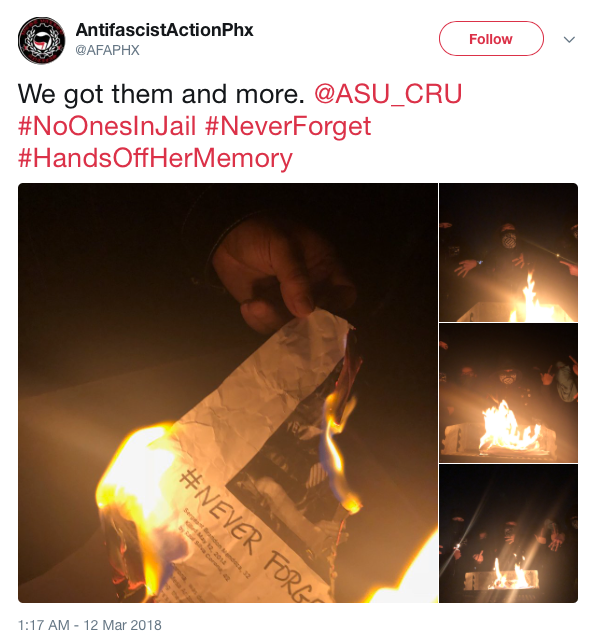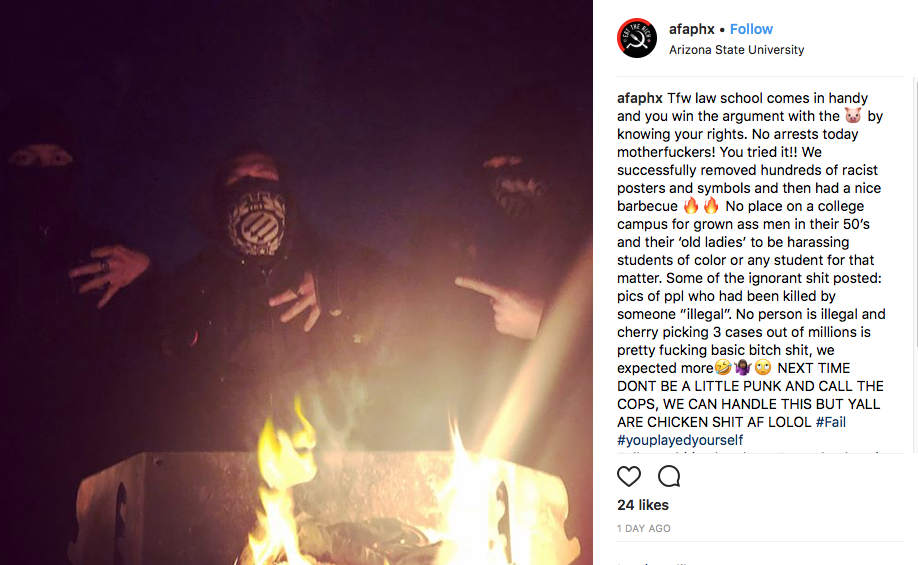 Burning fliers and then hiding behind a keyboard doesn't make you real world tough guys. It makes you cowardly jerks.
H/T: Daily Caller
Sponsored Links