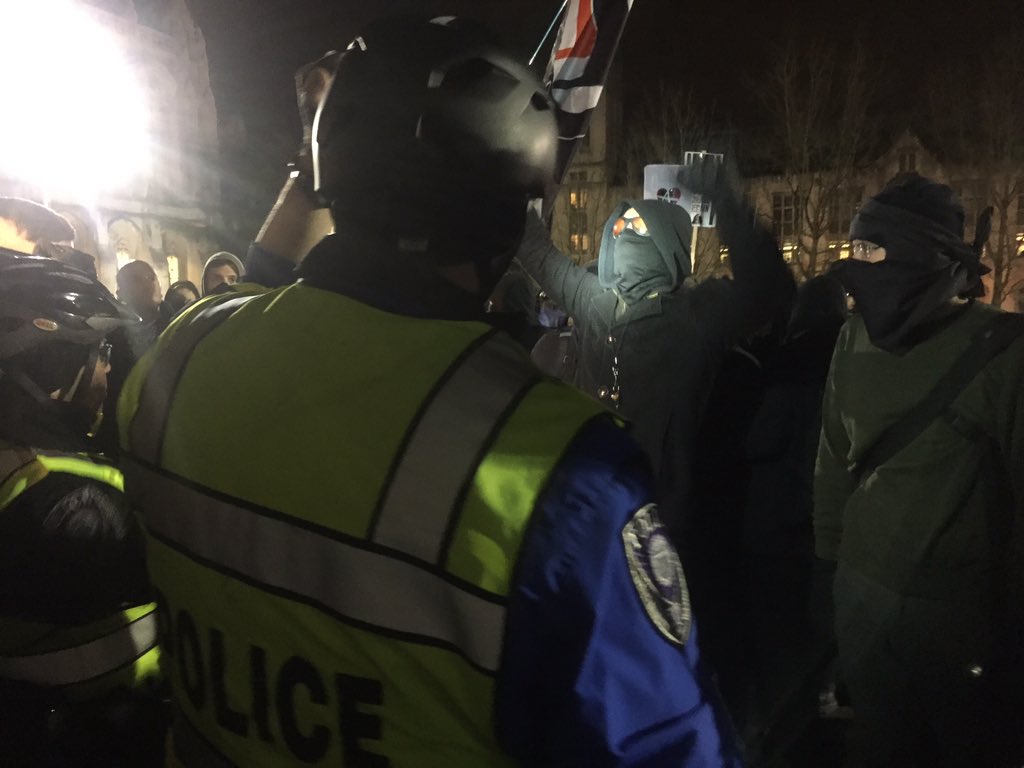 (Image source: Twitter)
A man sustained life-threatening injuries after he was shot in the stomach during protests outside Milo Yiannopoulos' talk at the University of Washington on Friday.
KIRO 7 reports protesters arrived at the event arranged by the College Republicans at 6 p.m. and began throwing rocks and fireworks at the police officers who wouldn't let them inside.
At around 8:30 p.m., the Seattle Police Department tweeted they were "working to remove one person with suspected gunshot wound to abdomen" from the crowd of protesters. The University of Washington posted an alert claiming the shooting suspect is an Asian male in his 50s.
Multiple reports claim the man who was shot is 34, while the Seattle Police Department claims he is 32.
According to KIRO 7, the victim was transported to Harborview Medical Center in "critical condition." On Saturday, the victim was reported to be "critical but stable." As of Sunday, the victim is reportedly breathing on his own.
The Seattle Police Department issued a statement on Saturday claiming a suspect turned himself in to police.
The Seattle Times reports the suspect was released after telling police he shot the victim as an act of self-defense. The suspect also allegedly told police the victim is a white supremacist.
Friends of the victim told the Seattle Times the victim is an anti-racism activist who even has an anti-racism tattoo.
Witnesses told KOMO News the victim was trying to "keep the peace" when he was shot.
Thank you for supporting MRCTV! As a tax-deductible, charitable organization, we rely on the support of our readers to keep us running! Keep MRCTV going with your gift here!