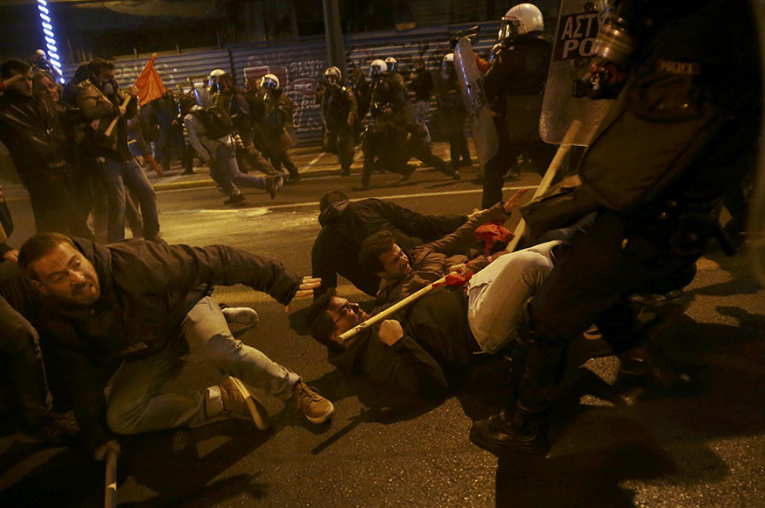 Greek riot police were forced to use tear gas and stun grenades in Athens on Tuesday to subdue over 7,000 protesters who erupted over President Obama's visit to the country. The leftist demonstrators were seen burning American flags and carrying banners that read, "We don't need protectors!"
"Yankees go home!" some were heard shouting.
The protesters originally planned to reach the U.S. Embassy, but were met with opposition from police when they entered an area that was off-limits.
Over 5,000 police officers in riot gear were sent to deal with the protesters. Video shows police clashing with many of the protesters—although there have been no injuries or arrests so far, according to AP.
Greek journalist Aris Chatzistefanou claims the protests are due to U.S. policy "creating tensions" with nations all over the world, including China and Russia, as well as U.S. attempts to "overthrow the government in Ukraine."
Protesters were also faulting the U.S. for supporting "Islamic extremists" which has led to "well-known consequences."
According to Telegraph, there is a "strong anti-American tradition among Greek Left-wingers, who still resent U.S. support for Greece's 1967-74 military dictatorship."
Many of the protesters were said to be a part of the Popular Unity Party, who labeled Obama's visit "a provocation." Party leader Panayiotis Lafazanis claims the U.S. is responsible for Greece's economic troubles.
"American imperialism has not changed," Lafazanis said. "The U.S. presidents and administrations have played – and still play – a leading part in the bailout-linked plundering of our country…and their interventions are drowning our part of the world in blood and creating refugee waves."  
This was Obama's first visit to Greece as commander-in-chief. The last sitting U.S. president to visit Greece was Bill Clinton in 1999—and his arrival was also met with riots in the streets.
Obama's trip to Greece was included in his last European tour before he hands over the Oval Office to president-elect Donald Trump.
Thank you for supporting MRCTV! As a tax-deductible, charitable organization, we rely on the support of our readers to keep us running! Keep MRCTV going with your gift here!