What's next? Synchronized swimming? Darts? Not to take anything away from the athleticism it takes to be a top tier fencer, but how far down the "ESPN: The Ocho" rabbit hole are we going to go in order to find a sport that hasn't had a poisonous injection of politics into it?
U.S. men's fencing team member Race Imboden took a knee on while the U.S. national anthem was played after his team won the gold medal at the Pan American Games in Lima, Peru on Friday. Both of his teammates, Gerek Meinhardt and Nick Itkin, stood for the anthem.
Imboden took to Twitter to display his virtue signaling gymnastics ability by listing CNN talking points as his reason for kneeling.
Here's Imboden's virtue signaling tweet, which wouldn't be complete without some kind of condemnation of President Donald Trump: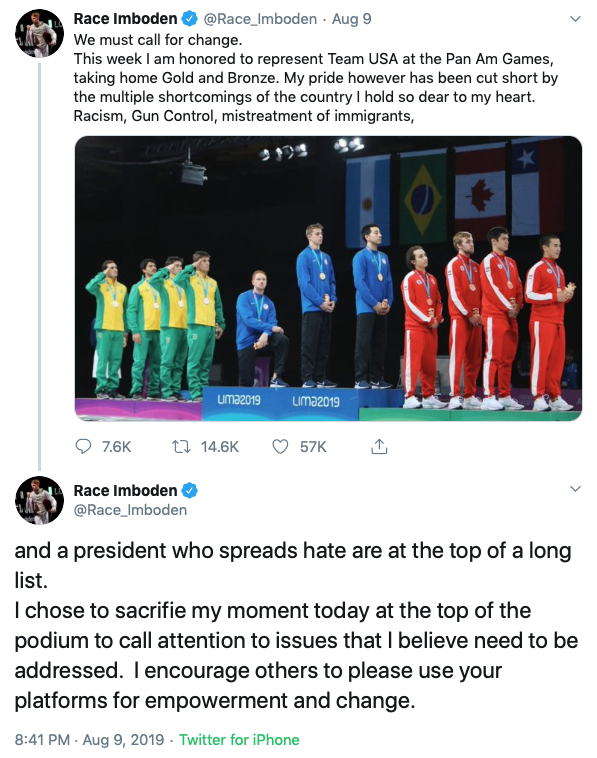 While Imboden is well within his rights to protest, he still felt the need to embarrass the country — on an international stage — that he holds "so dear to [his] heart."
Echoing that sentiment was Rep. Dan Crenshaw (R-Texas), who tweeted his response to Imboden's explanation tweet: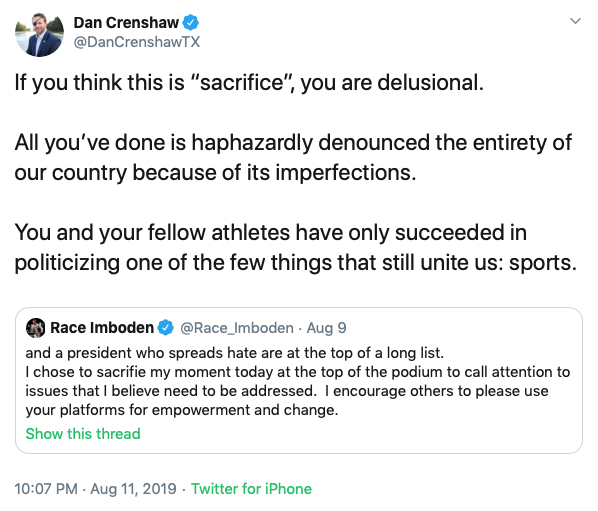 Abso-freakin-lutely!
Sports used to be one of the few places where people could escape the everyday political rat race and unite under a common cause, even if people were cheering for different teams. However, politicians, celebrities, the media, and yes, athletes have ruined anything resembling the escape that was sports.
I guess it's a good thing my knowledge of fencing is restricted to repeated viewings of "The Princess Bride" and "I Love You, Man." Now, I guess, we can add Imboden's "sacrifice" to the list.
H/T: Fox News