Only 37 percent of Americans harbor a "great deal" of concern about global warming, up only four percentage points from nearly three deacdes ago, according to a recent Gallup Poll that tracks Americans' views on environmental issues. 
The results come despite the Left's continued warnings of an inevitable climate catastrophe.
Gallup found that environmental issues such as air pollution and the loss of tropical rain forests are of greater concern to the American public than the possible dangers of climate change.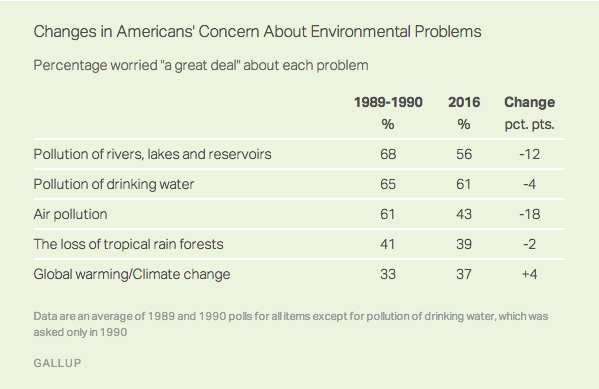 From Gallup's analysis:
"Americans are much less concerned now than they were a generation ago about air pollution and pollution of rivers, lakes and reservoirs. Their concern about polluted drinking water is down slightly, while they are slightly more concerned about global warming or climate change than in the late 1980s and early 1990s. However, on a relative basis, global warming is still of less concern than most of the other problems."
The survey also found that the number of Americans that consider themselves to be "environmentalists" has reached a record low of 42 percent. That number has dropped 36 points since 1991, when 78 percent of Americans said they considered themselves to be environmentalists.
Gallup points to several factors that may be playing a role in Americans' increasing reluctance to view the environment as a political priority. These factors include the increased politicization of environmental issues and the daily hassles of recycling, along  with other government mandated actions associated with environmentalism.
Sponsored Links