Image via Twitter / NatGeo
A majority of Americans side with President Trump that Confederate monuments should be preserved as parts of "the history and culture of our great country," a new Rasmussen poll finds.
The poll also finds that few Americans (29%) believe getting rid of the plaques and statues would help alleviate racial tensions in the U.S.
More respondents (39%) actually believe removing the Confederate monuments would hurt race relations instead.
"Despite widespread media condemnation of the president's response following the recent incident in Charlottesville, Virginia, 50% of Likely U.S. Voters agree with Trump's Twitter tweet that it is 'sad to see the history and culture of our great country being ripped apart with the removal of our beautiful statues and monuments,'" Rasmussen reports. "The latest Rasmussen Reports national telephone and online survey finds that 37% disagree, while 12% are undecided."
"Just 28% believe that the removal of Confederate monuments from many cities will help race relations," the poll shows. "Thirty-nine percent (39%) think the removal of those Civil War-era statues will hurt race relations instead. Twenty-six percent (26%) say it would have no impact."
The findings come as Confederate monuments labeled symbols of racism by the left are being defaced and removed.
Following the violence in Charlottesville, Va., protesters in Durham, N.C., unlawfully toppled a statue of a Confederate soldier.
Shortly thereafter, Baltimore, Md., removed two statues overnight to reportedly "avoid violent conflicts," MRCTV reported.
Just this past weekend, a Texas man was arrested and charged for allegedly trying to plant a bomb on a Confederate statue in Houston.
A peace monument in Atlanta mistaken to be a Confederate monument was vandalized by Antifa rioters last week, reported MRCTV. 
Cities across the nation are deliberating what to do with their Confederate monuments amid ongoing violence, vandalism, and calls for removal.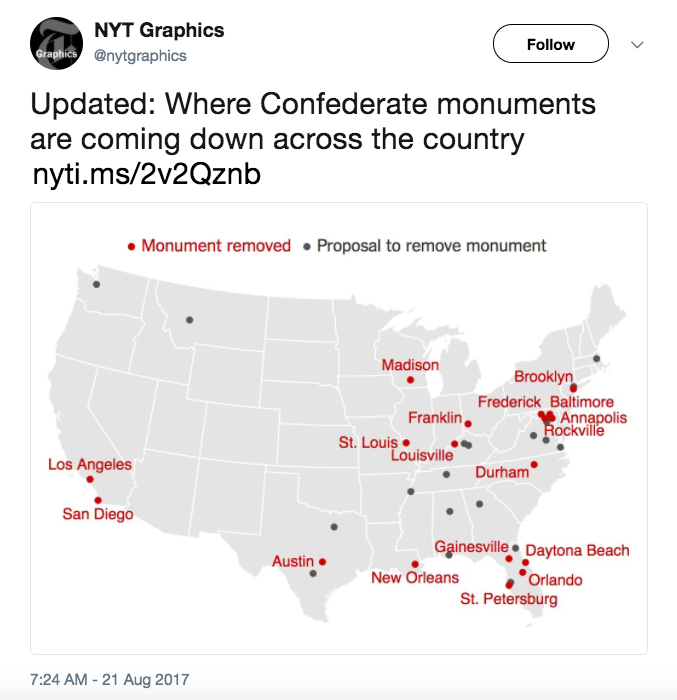 Thank you for supporting MRCTV! As a tax-deductible, charitable organization, we rely on the support of our readers to keep us running! Keep MRCTV going with your gift here!
Please support MRCTV today! (a 501c3 non-profit production of the Media Research Center)
DONATE