According to a recent Gallup poll, U.S. economic confidence experienced a sharp decline last week, reflecting the "lowest weekly score since December" and "the largest week-to-week drop since July."
Gallup's U.S. Economic Confidence Index barely moved in the previous six weeks after falling from the high points of +1 in January and +5 in February this year.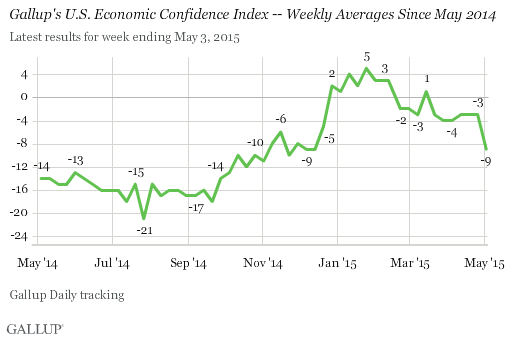 Gallup explains the recent dip in Americans' economic confidence as the likely culmination of the following factors: 
"Though stocks rebounded by last Friday, the previous week had been fraught with market losses in the Dow Jones industrial average and Standard & Poor's 500 market indexes. Meanwhile, the prices Americans were paying for gas increased in the latter half of April, with the U.S. Energy Information Administration reporting an increase of 17 cents per gallon over two weeks. Gallup has found that Americans' confidence in the economy is related to how much they pay at the pump. Additionally, the recent report that the nation's GDP grew a lackluster 0.2% in the first quarter—a disappointing figure compared with previous quarterly growth—may have dampened consumers' economic hopes."
For its weekly readings, the Index takes the average of Americans' ratings of current economic conditions and their views of whether the economy is improving or worsening. Last week, both components saw depressing figures. The economic outlook among Americans saw a significant drop, with 42% saying the economy is "getting better" and a whopping 54% saying it is "getting worse."